Senate Majority Leader Will Oppose Interchange Delay (Misc News: May 18, 2011)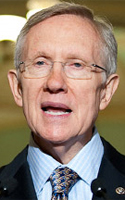 Reid
The coalition of groups fighting for a delay of the debit interchange rule lost a key player in the battle Wednesday when Senate Majority Leader Harry Reid announced that he will vote against the delay. Still, he may allow a Senate vote on the issue.
In a Wednesday story, the CU Times reported that Reid, D-Nev., thinks increased regulations on debit interchange would help small businesses. Click here to read the Times story.
Sen. Jon Tester, D-Mont., has proposed an amendment that would delay by two years the effective date of the Federal Reserve rule regulating interchange fees. It has not yet been determined what bill the Tester amendment will be attached to.
The amendment needs 60 votes to overcome a filibuster that Democratic Sen. Dick Durbin, the original sponsor of debit interchange, has promised. At one point, Tester had said that he had 60 votes, but more recently, his spokeswoman said that they expect to have the votes when the measure comes up, the Times reported.

Both of Michigan's senators, Democrats Carl Levin and Debbie Stabenow have said they are still studying the measure, despite an intense lobbying effort mounted by credit union and bank supporters. Credit union supporters have sent more than 22,000 letters to Levin and Stabenow combined.
A possible compromise would be to reduce the two-year delay proposed in Tester's bill to one year, which would bring it in line with what U.S. Rep. Shelley Capito has proposed in her version of the bill in the U.S. House.