2011 AC&E: Snyder Says He Loves 'Positively Michigan' (Misc News: May 16, 2011)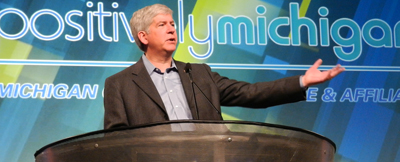 Gov. Rick Snyder addresses the Annual Convention and Exposition.
The MCUL surprised Gov. Rick Snyder with a video montage celebrating all that is good about Michigan, highlighting the theme of the 2011 Annual Conference and Exposition, Positively Michigan.
"I love that campaign because that's what it's about, being positive in Michigan," Snyder said at the opening of the 2011 conference.
In fact, folks in the governor's office have started using the acronym RPA – for relentlessly positive attitude – to describe their mindset.
Much of the rest of the conference carried a similar theme. Many speakers and attendees had an upbeat attitude about Michigan and credit unions.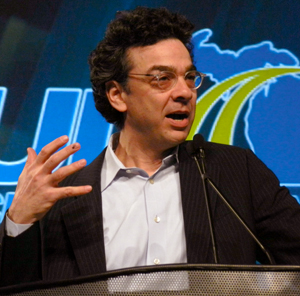 "I want you to do everything for me," said author Stephen Dubner, in suggesting that credit unions market a "switch kit" to encourage new members.
Speaker Stephen Dubner, co-author of "Super Freakonomics" kept the audience laughing, but also had a suggestion for how credit unions can overcome the frequent complaint that switching financial institutions is too difficult and time consuming.
He suggested that credit unions offer a "switch kit" to people who are thinking about switching. What's in the kit? Essentially the kit would amount to credit union personnel doing all of the legwork to get a new member switched over to the credit union.
"I want the credit union to do all of the work for me," Dubner said.
NCUA Chair Debbie Matz told the AC&E that while some have questioned the agency's aggressive action, it was needed.
"NCUA's actions have saved you hundreds of millions of dollars in insurance premiums," Matz said.
She also called on credit unions to step up their efforts to market to Generation Y by getting into mobile banking, deposits by phone and 24-hour service.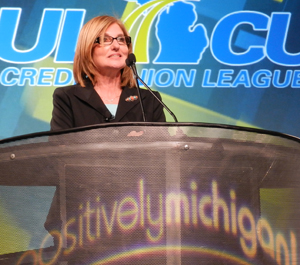 NCUA Chair Debbie Matz called on credit unions to step up efforts to market to Generation Y.
John Kolhoff, OFIR's new deputy commissioner in charge of credit unions, said that he is cautiously optimistic about the future.
"Improvement in Michigan outpaced the nation," Kolhoff said of the economy.
Washington Analyst Bert Ely said the Durbin Amendment was poorly thought out and the Fed is now worried about unintended consequences of the new law.
"The retailers will … try to steer business to the institutions that charge lower fees," Ely said.
He added that Sen. Dick Durbin, who introduced the amendment, cannot go down without a fight on this one.
"This is a matter of pride on his part more than anything else."