GAC Panel: Time is Right for CUs to Step up Commercial Lending (Monitor: May 2, 2011)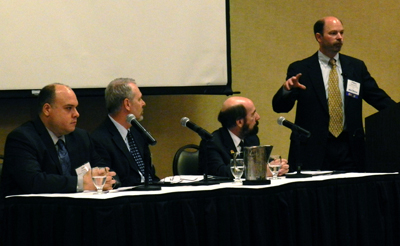 Bill Beardsley, right, moderator of "Economic Development Initiatives" at the MCUL's state GAC, introduces panelists Eric Hanna, left, of the MEDC, Tom Donaldson of the SBTDC and Al Cook of the U.S. SBA's Detroit office.
Several hands went up as Bill Beardsley, moderator of a panel speaking on "Economic Development Initiatives for a Stronger Michigan," asked credit union leaders if their credit unions were involved in member business lending.
Then Beardsley, president of Michigan Business Connection, asked if those who raised their hands felt that they are reaching their full potential for small business loans. No one raised a hand.
The presentation, part of the MCUL GAC in Lansing, was meant to give credit union executives ideas about expanding their member business lending efforts and help them identify resources to help.
Al Cook, deputy district director for the U.S. Small Business Administration's Detroit Office, said that even though the SBA has raised the cap on small business loans to $5 million, most of the loans it does still fall under the old $2 million cap.
"The shift I've seen is from big lenders to small lenders," Cook said. He added that the SBA prefers to work with lenders who know the local market.
Eric Hanna, capital markets development associate for the Michigan Economic Development Corp., said big banks might not begin lending again for two or three years.
"There's a tremendous opportunity for credit unions to step into the breach," Hanna said, but he added the window could be short because when banks do start lending, he thinks they'll aggressively try to grow volume.
Tom Donaldson, regional director for the Small Business and Technology Development Center, said credit union leaders need to be frank and make sure proposed deals work for them.
"Ultimately, we want to refer deals that you want to do," Donaldson said.
Beardsley said many credit unions seem to be at the end of the awareness phase and seem ready to begin developing relationships that could lead to more commercial lending. Others are already involved.
"I'm excited about working with a group of credit unions because they really put their money where their mission is," Beardsley said.