Experts Tell GAC that State Leaders Are Fixing Michigan's Broken Tax System, Budget (Monitor: May 2, 2011)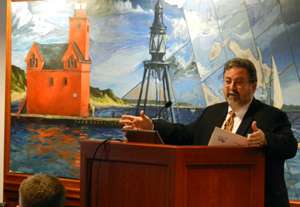 Mitch Bean, director of the Michigan House Fiscal Agency, says the state's government has used a series of one-time fixes to solve its budget problems for a decade.
A trio of experts told Michigan credit union leaders that the state's political leaders are finally starting to take real action to fix structural problems that have lead to huge budget problems during the last decade.
Speaking at the MCUL's GAC in Lansing, Mitch Bean, director of the state House Fiscal Agency, said the governor and Legislature have used one-time fixes to solve systematic budget issues since 2001.
He said those fixes, such as moving up when property taxes are paid, as well as windfalls in federal stimulus money are no longer available. He described a couple of problems, such as tax exemptions, which have outpaced tax growth, the loss of sales tax revenue as people spend more on services rather than goods and the erosion of sales taxes as more shoppers buy goods on the Internet. The state also emptied its $1.26 billion rainy day fund and spent the $870 school aid fund surplus to balance the budget.
"I don't think these results are appropriate at all for good tax policy," Bean said.
Bean said the Big Three automakers' resurgence will mean good things for the state, although he added that they will never dominate the state's economy the way they did in the heyday of the U.S. auto industry when the Big Three held as much as 70 percent of the market.
"They're stable, they're profitable and that's a very good thing for Michigan," Bean said.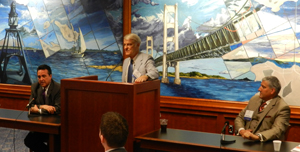 Lobbyists Tom Hoisington and Bill Wortz take part in a panel discussion moderated by Bill Ballenger, editor and publisher of Inside Michigan Politics.
In fact, Tom Hoisington, a lobbyist for Public Affairs Associates, said during a panel discussion moderated by Bill Ballenger, editor and publisher of Inside Michigan Politics, that Gov. Rick Snyder knows that the economy is turning around and is pushing his agenda to reform the state's tax structure before the estimates of increased revenue start coming in, solving Michigan's budget crisis before the real problems are fixed.
He and fellow lobbyist Bill Wortz agreed that Snyder is working off of a reservoir of good political capital because he comes across as nonpolitical.
"He's got people thinking about something over the horizon," Hoisington said.
Wortz said Snyder has shown a willingness to dismiss his strategists' advice on how his policies will play politically.
"His response has been 'I don't care about politically,' " Wortz said.
GAC participants also had a chance to share lunch with legislators and talk to them about issues affecting credit unions.
Craig Farrard director of communications for Wyandotte FCU, said he likes the tone he's hearing from legislators.
"This is not an anti-business Legislature anymore," he said.
The GAC continues Wednesday, moving to the Radisson Hotel down the street from the House Office Building, site of the first day of the conference.