MCUL Staff Meet with NCUA Supervisory Examiners (Misc News: April 14, 2011)

The MCUL Association Services staff and League Representatives met with NCUA Supervisory Examiners, Andrew Healey and Dennis DeMilner on April 12, 2011 to discuss issues facing federal credit unions (FCUs) in Michigan. MCUL staff meets with both NCUA and OFIR examiners on a bi-annual basis.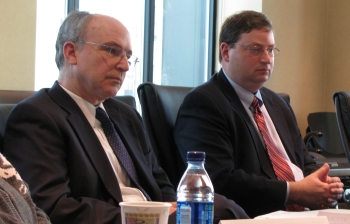 NCUA Supervisory Examiners Dennis DeMilner and Andrew Healey
According to the Supervisory Examiners, the NCUA's December 31, 2010 data on FCUs was relatively stable from the data as of December 31, 2009. Net worth, delinquency and charge-offs stayed relatively the same between December 2009 and December 2010. Share growth and earnings are up slightly from 2009, while loan growth declined slightly.

While the FCU industry in Michigan appears to be stabilizing, NCUA examiners are seeing problems with regard to earnings, especially for small-asset-sized (SAS) credit unions. Two other areas of concern are interest rate risk and concentration risk. Credit unions must prepare for increased interest rate environment, which is inevitable. With respect to concentration risk, credit unions must ensure that limits are set not only with regard to the types of loan products, but limits must be set by credit grade as well. Credit grade limitations are particularly important for indirect loan programs, which pose a greater risk of problems for credit unions.

The Supervisory Examiners announced three FCU board financial literacy training events:
April 29 in the Upper Peninsula
June 29 in Parchment
NCUA is also expected to announce web-based director training as well. Healey and DeMilner stressed that examiners will be looking at the quality of board minutes, as the minutes demonstrate the quality of decision-making and how well issues are understood. Examiners will also look at policies in order to determine the existence of board training requirements.

Healey and DeMilner also announced that NCUA will begin disclosing its CAMEL ratings (both the composite ratings as well as the component ratings) when conducting dual examinations with OFIR. NCUA now accompanies OFIR examiners at every state-chartered credit union (SCU) over $250 million (nationwide). State-chartered credit unions under $250 million in assets may receive a dual (NCUA and OFIR) examination when the SCUs are deemed to have higher risks (e.g., a large portfolio of member business loans and/or indirect loans).
Click here for a detailed summary of the meeting.