CUSO Leader: Credit Unions Are Eager to Expand Business Lending (Misc News: March 30, 2011)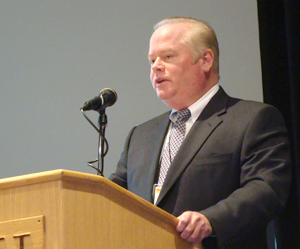 Commercial Alliance President/CEO Terry McHugh speaks at the Roads to Renewal II conference sponsored by the Center for Automotive Research.
Michigan credit unions are ready to step in and help get the economy moving with small business loans, the head of a Michigan CUSO told automotive leaders at a conference Tuesday.
Terry McHugh, president/CEO of Troy-based Commercial Alliance, a CUSO owned by six Michigan credit unions, said the state's credit unions had a total of $952 million in business lending as of the end of the third quarter in 2010. And they're eager to grow their business-lending portfolios even more.
While he didn't make it a focus of his speech, McHugh did talk briefly about the industry effort to increase the MBL cap from 12.25 percent to 27.5 percent.
McHugh was part of a panel speaking on "Access to Capital – Beyond the Banks" at the Roads to Renewal II conference in Dearborn, sponsored by the Center for Automotive Research, an Ann Arbor think tank that examines auto issues. Many of the audience members work for suppliers that credit unions could help secure access to capital.
Credit unions are not quite ready to handle loans by most tier 1 suppliers to the auto industry, he said, but it could handle the needs of most tier 2 and 3 suppliers. Lower-tier suppliers provide the components and raw materials that the tier 1s use to produce the automotive parts for automakers.
CA's strategy is to spread the risk among several credit unions, McHugh said. An example is a credit union that is working on an $800,000 loan but only wants to assume $200,000 of exposure. It could work with Commercial Alliance to find partners to take on the remaining $600,000. Under that scenario, the originating credit union would be the primary lender and would service the loan. In some cases, CA has brought the business to the table and assigned one of its partners as the primary.
McHugh worked in the banking industry for many years before he was approached in 2004 to help the originating credit unions get into commercial lending.
"We're all bankers who are now operating in the CU landscape," McHugh said.
In fact, McHugh said he has developed an appreciation for the credit union difference.
"They're not owned by someone else. They're owned by the people who are borrowing the money."
He said credit unions' long history of conservative and prudent lending has put them in a position to lend while big banks have pulled back on credit during the downturn.
Some of the other members of the panel gave a positive view of credit unions.
Carl Macotte, vice president of the transportation group for Export Development Canada, said his agency has worked with credit unions.
Douglas Stemen, who works with entrepreneurs and small businesses to develop business strategies, said credit unions are a good place to look for funding.
"What's neat about credit unions is (the people making the decisions) are very close to the community," said . "They're a wonderful source."
Still, McHugh took exception with Stemen's statement that credit unions are uncomfortable with complex loans. In fact, that's CA's expertise.
"One of the things CUSOs offer them is helping them understand those loans," McHugh, who has worked in commercial lending for 30 years, said after the presentation.
But ultimately, control still rests with the credit union.
"The decisioning still goes on within the credit union," he said.
The major limitation is the size of loan credit unions can make. Right now, McHugh said the biggest loan credit unions can handle is about $2.5 million.
But McHugh was happy that a credit union representative was invited to speak at conference like this one.
"How often have we been invited to these types of things?" McHugh said.
He briefly spoke about the effort in Congress to get the cap on MBL changed from the present 12.25 percent to 27.5 percent. He said some of the credit unions that are involved in commercial lending are getting close to bumping up against the cap.
A bill introduced by U.S. Sen. Mark Udall, D-Colo., would raise the cap. Credit unions have been trying to get the bill passed for a couple of years, but some experts believe this could be the year it passes.