Clarke Signs on as Co-sponsor to Delay Debit Interchange (Misc News: March 23, 2011)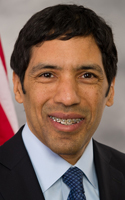 Clarke
U.S. Rep. Hansen Clarke, D-Detroit, has added his name to the list of co-sponsors on a bill calling for the delay of new rules for debit interchange.
"As one of Michigan's newest members of Congress, this shows great political courage in taking on such a significant issue for consumers and small financial institutions," MCUL & Affiliates CEO David Adams said. "We hope to have all of our representatives and senators on the bills very soon."
Adams noted that Clarke is the third member of Michigan's congressional delegation to sign on as a co-sponsor, joining fellow Democrats Gary Peters and Dale Kildee.
"This issue is of critical importance in helping to preserve low-cost basic financial services for Michiganders," Adams said.
The MCUL launched its "Save My Free Checking" grassroots campaign this week in an effort to encourage voters to call on their representatives to stop the new rules, which will severely restrict revenues generated by debit interchange fees for financial institutions.