'Save My Free Checking' Campaign Launches (Misc News: March 21, 2011)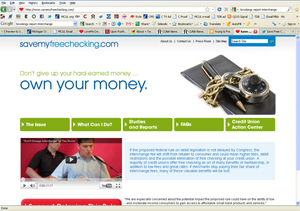 The MCUL & Affiliates is launching a public campaign to support bills that would delay implementation of changes to the debit interchange system.
The campaign includes a radio ad blitz using the theme "Save My Free Checking" as well as contacting lawmakers in order to advocate for Congress to stop the proposed rules and instead study the negative effects on consumers. The campaign will work in tandem with the issue-specific website, SaveMyFreeChecking.com, which includes a petition to channel members' voices toward their elected representative and turnkey materials for credit unions to utilize to supplement the campaign.
The retailers have already started a radio ad campaign in Montana to intimidate one of the sponsors of legislation to delay it the debit interchange rule, Sen. Jon Tester. It is critical for us not only to encourage more support for this legislation, but also to show our appreciation for those who have shown tremendous political courage by sponsoring these bills, including Michigan Reps. Peters and Kildee. We are not alone in this effort. As part of the Electronic Payments Coalition, credit unions have allied with bankers as well as with Visa and MasterCard for the legislative push in D.C.
With legislation introduced in the U.S. House (HR 1081) and Senate (S 575), the time is now for a public campaign to support these bills and delay the proposed changes to the debit interchange system. Congress is realizing the unintended consequences to Sen. Durbin's last-minute debit interchange amendment to Dodd-Frank and our industry needs to show our unity and support for these new bills, their sponsors and their co-sponsors. We must work quickly to drive public opinion in our favor.
Please help drive traffic to SaveMyFreeChecking.com and watch for updates in Monitor and at www.MCUL.org about the progress of the campaign. You can also follow the campaign's progress on twitter @SaveFreeCheckin.