Website Helps Parents Teach Children the Value of Money (Misc News: March 15, 2011)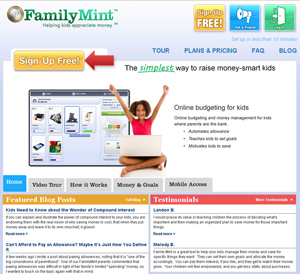 FamilyMint is a new website that helps parents raise money-smart kids.
There's a woman in the office who has a bumper sticker in her cubicle that reads "My kid thinks I'm an ATM."
Most parents know the feeling. The media and advertising pressure to buy the latest toy for children is more than many parents can withstand.
But a new online tool might be able to help. FamilyMint helps parents track their children's spending and helps the children learn to save their money. According to the Detroit Free Press, the program is the brainchild of a couple of Michigan friends, CEO Jeff Eusebio and President Bob Masterson. Click here to read the story.
Parents can encourage their children to save by offering a match.
The basic program is free, but at least two Michigan credit unions are offering access to the premium version for free to members. Genisys CU and Washtenaw FCU are both linked to the program.
"Parents are seeing how they're squeezed in today's economy," said Lon Bone, Genisys vice president of public relations and community involvement, told the Free Press.
Genisys has been offering the program for six months and has a few hundred families signed up. Washtenaw has been offering it for just a month.
FamilyMint won the Mom's Choice Award 2010 Gold Recipient, voted Most Family-oriented Product by the Home School Crew 2010 and National Parent Center Seal of Approval for 2011.