Chippewa Eagle FCU Celebrates Grand Opening (Misc News: March 8, 2011)

The second credit union to form in Michigan in the past year, Mt. Pleasant's Chippewa Eagle FCU officially opened its doors on March 7, 2011. The credit union, with a potential membership of 7,800, will serve the members and employees of the Saginaw Chippewa Indian Tribe.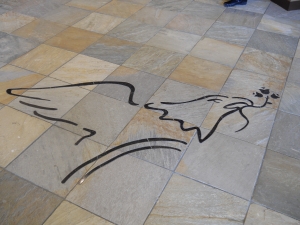 The Chippewa Eagle Federal Credit Union's eagle logo on the floor of their new office.
Located in the Arnold J. Sowmick Plaza, directly south of Soaring Eagle Casino and Resort on the Isabella Reservation, the credit union will be a significant asset to the tribe, their employees and their families.
Hosted by President/CEO Greg Carroll, attendees of the event heard from David Adams, Chief Executive Officer of the Michigan Credit Union League & Affiliates; Chippewa Eagle FCU Board President Ronald Douglas and Tribal Chief Dennis V. Kequom Sr. of the Saginaw Chippewa Indian Tribe of Michigan. The credit unions full board of directors and representatives from the Mt. Pleasant Chamber of Commerce and the tribal government were all on hand for the ceremony.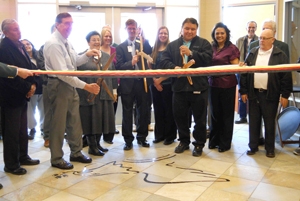 Cutting the ribbon are (from left) Chippewa Eagle FCU Board President Ronald Douglas and CEO Greg Carroll as well as Saginaw Chippewa Indian Tribal Chief Dennis V. Kequom Sr.
Douglas emphasized the importance of the credit union for the local community and its members – the tribe and employees of the tribe.
Adams praised the community spirit of credit unions and the support of Isabella Community CU, also in Mt. Pleasant, for mentoring and supporting the new credit union as it has worked toward opening over the past several years. He mentioned that it is only the second credit union he has been a part of starting in more than 25 years in the industry.
"Only in the credit union movement would you see a financial institution help another that is just starting out, as Isabella Community Credit Union and their CEO Jay Anders have done," said Adams.
From Michigan Monitor (5/31/2010): New Mt. Pleasant-based CU Receives Charter from NCUA