Day 4: Live from the 2011 CUNA GAC (Misc News: March 3, 2011)

Live from the 2011 CUNA GAC: Day 4 Video
Wednesday, day four of the 2011 CUNA GAC, started early for members of Michigan's credit union delegation to Washington, with the traditional congressional breakfast.
Congressmen Dave Camp, Bill Huizenga and Gary Peters joined the group to discuss several areas of concern, including maintaining credit unions' tax status, fixing interchange, raising the cap on member business lending and supplemental capital.
Camp is Chairman of the powerful House Ways and Means Committee, and noted that credit unions work hard in their communities to serve the interests of their members. He also addressed broader issues of economic growth in Michigan and across the country.
"How do we get job creation going again? How do we get the economy going again? We're going to work on these things to get the economy going again," Camp told the group.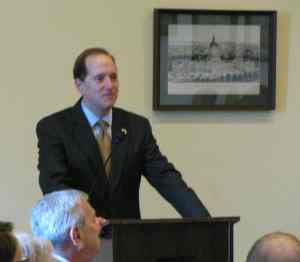 Rep. Camp speaks at MI congressional breakfast
MCUL & Affiliates CEO David Adams presented Rep. Peters with the state association's Legislator of the Year award for his ongoing support of the movement in Michigan.
Peters has promised to work to find a way to fix interchange, calling it anti-consumer and an amendment that should never have been included in the Dodd-Frank Wall Street reform legislation, and noted that credit unions are a consumer-friendly alternative to other financial services.
"Credit unions are a counterbalance to the competition and provide valuable services to their members," he said. Peters also praised credit unions and the Invest in America program for helping boost jobs and sales for Detroit's automakers.
Michigan's credit union leaders spent the rest of the day visiting lawmakers on Capitol Hill to lobby for their support on issues of interest and concern to the movement.
Michigan First Credit Union President/CEO Michael Poulos said he felt the visits were extremely valuable and an "eye opening" experience for both the visitors and lawmakers alike. Many lawmakers, he believes, needed some basic education about the credit union difference and how they serve their communities.
"I think the meetings today went very, very well. I don't think we can do enough to get people involved and talking to their lawmakers," Poulos said.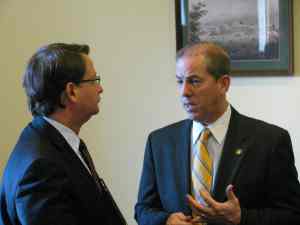 Rep. Peters, Adams discuss CU legislative issues
The league's Adams summed up the week as being "incredibly productive" and that Michigan credit unions made a lot of progress on Capitol Hill.
"I think we got our message across. My thanks goes out to our entire Michigan credit union community for being part of the process," Adams said.
The evening event featured the 2011 CUNA Dora Maxwell and Louise Herring Awards Reception, where Michigan's Central Macomb Community Credit Union was recognized for its extraordinary service to its members and the community, winning first place honors in the Louise Herring Philosophy in Action category. CMCCU conducts workshops to teach people about the importance of, and how to build or maintain, their credit scores.
"We submitted numerous times to the Herring award and won at the state level, but never at the national level," said Drema Isaac, President/CEO of CMCCU. "To win nationally, we're ecstatic."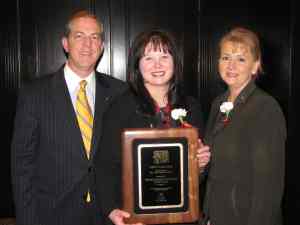 CMCCU's Heather Bade (C) and CEO Drema Issac (R) with Dave Adams and national Herring award