Day 3 - Live from the 2011 CUNA GAC (Misc News: March 2, 2011)

Live from the 2011 CUNA GAC: Day 3 Video
Tuesday, day three of the 2011 CUNA GAC, featured the day's General Session in the Washington Convention Center. Attendees heard from pro-credit union lawmakers who promised to fight the good fight to protect credit unions' interests.
Political commentators Mary Matalin and Arianna Huffington also debated the political landscape from the red-blue spectrum, but agreed that America needs a return to the fundamentals of the economy, democracy and government and that it takes an engaged citizenry to make it work.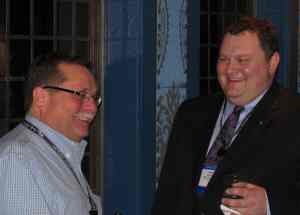 Monroe County CU CEO Paul Assenmacher with the MCUL's Jordan Kingdon
"Caring for the middle class, caring for upward mobility, caring for jobs, is not a left or right wing position -- it affects all of us," Huffington told the audience. "We need to look at the leader in the mirror to find the solutions for our country."
CUBE TV caught up with CUNA President/CEO Bill Cheney backstage and discussed the successes of the past year, along with a look ahead.
"We persuaded Congress to maintain the NCUA as the independent regulator of credit unions, and keep the National Credit Union Share Insurance Fund separate from the Federal Deposit Insurance Corp.," Cheney said.
Cheney also noted that credit unions played a major role in limiting the impact of the Consumer Financial Protection Bureau, formed under the Dodd-Frank Act, and is represented on the council that oversees the bureau's rules. "That's a mandate that the impact on credit unions must be considered in any rulemaking done by the bureau," Cheney said.
Cheney noted that 14 members of Congress (11 House members, three senators) now hold their seats thanks to special focus from CUNA and state leagues, adding that CUNA will continue to fight for business lending and interchange. Although credit unions did not win expanded lending authority, they achieved considerable congressional support on both sides of the aisle, he added.
Later in the day, credit union leaders, including the delegation from Michigan, visited their lawmakers on Capitol Hill, including Reps. Dale Kildee, Justin Amash and Tim Walberg. The day's agenda was focused on three main topics of concern for credit unions: maintaining the tax status, fixing interchange and member business lending.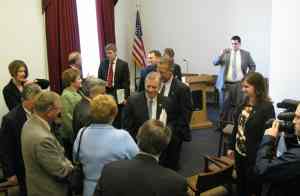 MI CU leaders meet with Rep. Walberg (C)
MCUL & Affiliates CEO David Adams and a group of 35 leaders from mid-Michigan credit unions visited Rep. Tim Walberg, newly-elected to the state's 7th Congressional District. The group was too large for Walberg's office, so the meeting had to be moved to a larger conference room.
In his welcoming remarks, Walberg drew enthusiastic applause when he said he'd never support removal of credit unions' tax exempt status. He commended the credit union community for working hard to help members maintain the American dream.
"For folks like you, working everyday, looking for an opportunity to carry on a dream -- to make a better life for our kids."
Walberg also told the group that he'd further study a legislative fix for debit interchange fees and raising the cap on member business lending.
Wednesday features a full day of Hill visits by credit union representatives. Wednesday night is the 2011 CUNA National Awards ceremony, where Michigan's Central Macomb Community Credit Union will be honored for its extraordinary service to their members and community.
Live from the 2011 CUNA GAC: Day 1 video, story
Live from the 2011 CUNA GAC: Day 2 video, story