Day Two - Live from the 2011 CUNA GAC (Misc News: March 1, 2011)

Live from the 2011 CUNA GAC: Day 2 video
On the first full day of activities at the 2011 CUNA Governmental Affairs Conference in the Washington Conference Center, and his first as CUNA president and CEO, Bill Cheney welcomed the crowd with a call to, in his words, "change the conversation in Washington" and to let lawmakers know that credit unions are the best option for consumers to conduct their financial services, and that credit unions didn't cause the financial crisis.
"We can't take anything for granted. We're here to stay," Cheney said. "We have a big voice; let's put it work. We have served, prudently, when others wouldn't. We can continue getting the good press we have received; we just have to continue to tell our story."

CUNA President/CEO Bill Cheney addresses the audience on Day 2 of 2011 CUNA GAC
NCUA Chairman Debbie Matz followed Cheney on stage and defended what she called her agency's policy of "tough love" over the past two years, likening her agency to a traffic cop that maintains order on a busy road.
"Most credit unions don't need to fear tough love. These difficult economic times have required NCUA to provide tough love. I received a letter saying 'we're feeling the tough, but we're not feeling the love."
Matz added that over the past 18 months, several billion dollar credit unions were on the verge of collapse, but the agency's policy of "tough love" prevented their demise.
In the exhibit hall, more than 200 credit union vendors and partners, including CU Solutions Group and Invest in America, displayed their products and service. Jim Mitchell of Sprint says this national conference is a perfect opportunity to tell the Invest in America story and the advantages to members.
"We've gone from 100,000 Sprint users on the program two years ago to 1.1 million users today, so the credit union brand has been great in attracting new users to Sprint," Mitchell said.

CU Solutions Group exhibit at CUNA GAC

NCUA Chairman Matz explains her "tough Love" policy
The afternoon session featured keynote speaker Capt. Chesney "Sully" Sullenberger III, who became a national hero in 2009 when he safely landed his stricken US Air jetliner in the Hudson River, saving 155 passengers, which became known as the "Miracle on the Hudson." The audience welcomed him with a standing ovation, then sat spellbound as he told his amazing story of courage under pressure. They applauded loudly when he told them he is a 30 year member of a credit union.
"We were ordinary people who found ourselves in extraordinary circumstances," Sullenberger said.
The MCUL received an award for Project Zip Code, which boosted CU grassroots political participation in Michigan. The state's credit unions had the largest increase in participating credit unions in the nation in 2010 -- up by 12 over 2009. Legislative Affairs Director Jordan Kingdon accepted the award on behalf of the league and applauded the efforts of the state's grassroots activism.
"Michigan credit union participation in grassroots lobbying continues to be very strong despite toough economic times. Our politically active credit unions also share in this recognition as they run Project Zip Code year after year," Kingdon said.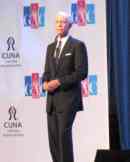 Capt. Chesney "Sully" Sullenberger III
CUBE TV also spoke with Frankenmuth (MI) CU CEO Vickie Schmitzer, who's looking forward to visiting with lawmakers in visits to Capitol Hill on Tuesday and Wednesday. Fixing interchange fees and maintaining credit unions' tax status are top of her mind.
Live from the 2011 CUNA GAC: Day 1 video, story