Michigan Senate Approves Debit Interchange Resolution (Misc News: February 15, 2011)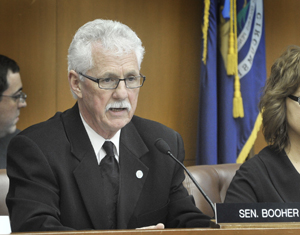 Sen. Darwin Booher addresses the Senate Banking and Financial Institutions Committee where MCUL & Affiliates CEO David Adams spoke last week.
The Michigan Senate has approved a resolution calling on the federal government to stop implementation of the debit interchange regulatory provision. The state House approved the resolution last week.

"We appreciate the strong message sent by the Michigan state Legislature on this very bad debit interchange legislation," MCUL & Affiliates CEO David Adams said. "In an economy like Michigan's we can ill-afford any regulation that so severely restricts income for lenders.

"This federal reserve regulation needs to be delayed and hopefully stopped altogether," he said. "If not, the short-term effect will be less capital for consumers and businesses as lenders will be forced to control their growth as bottom lines disappear.

"Worse yet is the longer-term effect of a huge fee pass-through to consumers on basic lifeline banking services such as checking accounts. We applaud the Michigan Legislature's call on Congress to fix this terrible example of federal regulation that will stifle economic growth in our nation."
Sen. Darwin Booher, chairman of the Senate Banking and Financial Institutions Committee, sponsored the resolution.
"I sponsored this resolution to send a strong message to Congress: Stop any rules from being adopted that would harm our community banks, credit unions and the millions of Michigan consumers that use them," said Booher, R-Evart. "As currently proposed, the rules would force credit unions and community banks to absorb the costs of fraud and data security. That would result in less credit available for job providers, increased fees and the ending of popular services like free checking."

SR 14 was adopted unanimously and asks Congress to slow down or stop the Federal Reserve from adopting the proposed rules until the concerns are addressed.

"It would be shameful if Michigan families and job providers end up paying the price of an irresponsible federal rule," said Booher, chair the Michigan Senate Banking and Financial Institutions Committee. "Access to credit is critical for small businesses that create more than 70 percent of Michigan jobs. With more than 40 years of experience as a banker in the private sector, I know that hurting an institution's ability to lend capital is bad for the economy. I hope Congress will do the right thing and ensure consumers are protected."

The U.S. House Financial Institutions and Consumer Credit Subcommittee is expected to discuss debit interchange at its meeting Thursday morning. Two members of Michigan's Congressional delegation sit on that subcommittee, Rep. Thaddeus McCotter, R-Livonia, and Rep. Bill Huizenga, R-Zeeland. Huizenga has said that he is concerned about the effects the provision could have on consumers.
The debit interchange provision comes from last-minute amendment to the Dodd-Frank Consumer Protection Act passed last summer. While the bill exempts financial institutions with less than $10 billion in assets, there is no provision in the law to enforce a two-tier system.
The MCUL, in conjunction with CUNA, is seeking to have the proposed rules delayed by the Federal Reserve or Congress so that the impact on small issuers could be studied.

Click here to read the press release from Booher's office.