Save to Win Grand Prize Winner Gets the Big Check (Misc News: February 11, 2011)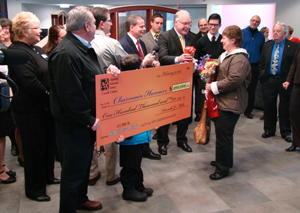 MCUL Public Affairs Director Glenn Ray gives Save to Win Grand Prize winner Charmain Hanners a jar of $100,000 candy bars.
Charmain Hanners says she wants to share her winnings with those who need it more than she does.
Hanners, a member at Alpena Alcona Area CU, won the $100,000 Grand Prize in the groundbreaking Save to Win contest. More than 30 people were on hand at AAACU's north Alpena branch to give Hanners her big check.
Hanners has big plans for the money. She plans to use some of it to help pay for her grandson Charlie's education, plus any other future grandchildren she may have. She also plans to share her winnings with battered women's shelters, the American Cancer Society and homeless shelters.
"Anytime I have good fortune, I always make it a habit to share with others," Hanners said.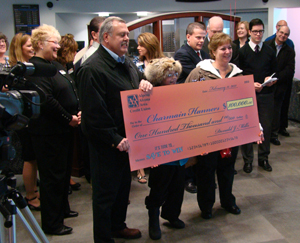 Charmain Hanners poses for pictures with her husband Ronald and grandson Charlie.
Hanners and her husband Ronald have been credit union members since 1973 and her father served on a credit union board.
Hanners opened the account last July to save money for her grandson's education. And now AAACU CEO Donald Mills is expecting more people to take advantage of the program.
"We're expecting a rush of people coming in to open Save to Win certificates," Mills said.
"Save to Win is one way credit unions like Alpena Alcona Area Credit Union are rewarding members like Charmain Hanners for making good financial decisions and saving money for the futures," he added.
Save to Win is a MCUL program designed to encourage saving. As of Dec. 31, 2010, 157 AAACU members had saved $84,000. Statewide, 16,833 credit union members have saved $28 million through the program.
"Michigan credit unions started this unique program to encourage saving statewide and we've seen a great response from credit union members," MCUL & Affiliates CEO David Adams said.
Each $25 deposit into a Save to Win certificate by a credit union member gives them one entry into the annual $100,000 grand prize drawing. The program also awards smaller monthly cash prizes ranging from $125 to $1,000.
Click here for the full press release.