MCUL CEO Adams Testifies Before State House Committee (Misc News: January 26, 2011)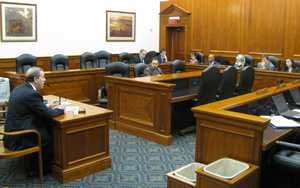 MCUL & Affiliates CEO David Adams called on the Legislature to reform foreclosure laws, do more to support economic development programs and encourage Michigan residents to spend more responsibly.
MCUL & Affiliates CEO David Adams called on the state Legislature to reform foreclosure laws, improve Michigan's economic development programs and develop policies to encourage Michigan residents to spend more responsibly.
Speaking before the House Banking and Financial Services Committee Wednesday morning, Adams suggested extending the 90-day workout period for foreclosures while shortening the redemption period on the back end of the process. Currently, the redemption period ranges from six months to a year for occupied property.
"Michigan's overly burdensome foreclosure law is in need of reform," Adams said. "We urge members of this committee to consider striking a balance between homeowners' interests and the financial risks borne by depository institutions in this very challenging economic climate."
Adams said the Legislature needs to strengthen Michigan Economic Development Corp's Capital Access Program by providing more funding. CAP uses small amounts of public resources to generate provide bank financing, providing small Michigan businesses access to capital that might not otherwise be available.
"State-endorsed risk mitigation programs can help stimulate increased lending by financial institutions," Adams said.
Adams also called on the legislators to help encourage more consumer savings, financial education and rewarding responsible financial behavior.
"State and local governments could work with the financial industry to use tax policy in a manner that develops incentives for smart financial behavior and penalizes reckless/immoral behavior," Adams said. He cited homeowners who have decided on a "strategic default."
"These homeowners can afford to pay, but walk away from their mortgage obligation, leaving lenders holding the debt," Adams said.
Improving the economic climate begins with helping people learn more about finances, he said.
"After living through two years of what President Obama characterized as the toughest two years since the Great Depression for America, we can all learn that we as a nation have become under-educated on basic finance, we've borrowed recklessly and saved too little," he said.
"I wonder if it is time for us to move toward a culture that encourages and rewards increased financial responsibility. Such policies would have tremendous long-term effect because once implemented, more people would honor their mortgage commitments, strive to save, work to improve their credit scores and eventually achieve financial literacy."
Click here to view Adams' prepared remarks for the committee.