Governor Thanks Credit Unions for Helping to Foster Entrepreneurship (Misc News: October 12, 2010)

Benjamin Cummings, co-owner of a new chiropractic office in Lapeer, is having so much fun starting his first business that he is looking forward to doing it again.
"I've got the itch now," said Cummings, who co-founded Cummings Chiropractic with his wife, Teresa, in September. "I could definitely see myself becoming a serial entrepreneur."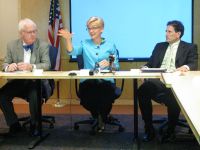 Greg Main, left, president and CEO of the Michigan Economic Development Corp., and Andy Levin, acting director of the Department of Energy, Labor and Economic Growth, listen to Gov. Jennifer Granholm talk about the state's efforts to improve entrepreneurhip in the state.
Cummings took part in a press conference Tuesday highlighting the state's efforts to encourage entrepreneurship. At the conference, Cummings described the training program he went through with the Small Business Technology and Development Center and the easy process to obtain a business loan through his local credit union, ELGA CU in Flint, where he was already a member.
"We were able to get our loan very, very quickly, with minimal hassles," said Cummings, who is vice president of marketing and finance for the chiropractic office.
During the press conference, Gov. Granholm thanked credit unions and the MCUL for their help in fostering entrepreneurship in the state. Earlier this year, the league collaborated with the Michigan Economic Development Corporation and SBTDC to create the Credit Union Small Business Financing Alliance, a one-stop shop where entrepreneur can obtain information on training and lenders.
"We have nurtured a culture in which entrepreneurs can thrive," Granholm said. "We have planted seeds for a new, diversified Michigan economy by providing start-up businesses with seed capital, coaching and support infrastructure."
At the meeting, Granholm announced $1.5 million in grants funded by the federal No Worker Left Behind program to help prepare entrepreneurs for business start-ups. Agencies receiving grants include:
• $200,000 for Michigan Works! for three regional centers providing market research and financial consulting;
• $199,576 for LEAP Inc., which will offer additional youth and teen entrepreneurial training , networking programs and a business incubator;
• $144,026 for Middle Michigan Development Corp., which will conduct an entrepreneurial asset map, develop a website for entrepreneurial resources and create new networking opportunities.
• $104,000 for Montcalm County to combine an existing network of entrepreneurial resources into a cohesive asset collection.
• $148,808 for Muskegon County Department of Employment & Training to hire an administration staff member, create a web-based entrepreneurial clearing house and implement an entrepreneurial mentor-match system.
• $199,997 for Saginaw Valley State University to expand programs including its virtual business incubator and virtual resource center.
• $200,000 for South Center Michigan Works! to conduct asset and stakeholder analysis, create entrepreneurial community awareness programs and expand Hillsdale County's web-based "The e-Spot" resource.
• $90,000 for Thumbworks to mentor and support entrepreneurs and support Junior Achievement.
• $176,318 to Northwestern Michigan College to consolidate multiple regional entrepreneurial strategic plans into an integrated plan and establish an incubator at NMC's Aero Park campus.
Cummings said the support of MCUL's Credit Union Small Business Financing Alliance was critical in starting the business. Through the alliance, he was able to go through the FastTrac New Venture training program and then connect with ELGA to obtain financing for the project.
Cummings said business at the chiropractic office has been so brisk that the office has already hit its six-month projections after just one month. He said he expects to be able repay the loan early.