Credit Unions Represented at MSHDA Press Conference (Monitor: July 12, 2010)

A statewide campaign to inform consumers about MSHDA's Helping Hardest-Hit Homeowners fund began today and MSHDA has also begun accepting applications for the program from mortgage loan servicers. Gov. Jennifer Granholm announced these details during press conferences July 7 in Lansing and Flint. Granholm was joined at the press conferences by MCUL Director of Public Affairs Glenn Ray, representatives of MSHDA, the Michigan Bankers Association, and the Michigan Association of Community Bankers.
The $154.5 million fund is designed for Michigan homeowners who are currently receiving unemployment compensation, homeowners who have fallen behind in their mortgage payments or taxes due to a temporary layoff or medical emergency, and homeowners who can no longer afford their mortgage payments due to lower income. MSHDA is the first of the nation's five-state Housing Finance Agencies participating in the Obama Administration's Hardest-Hit fund to implement its plan.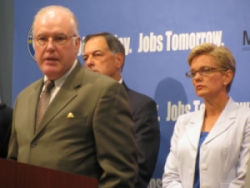 Glenn Ray of the MCUL explains the credit union role in MSHDA's Hardest Hit program.
"The credit unions of Michigan, more than 330 strong, are proud to be part of this program to keep people in their homes," Ray said. "Keeping people in their homes is important as we look toward job recovery just around the corner. Credit unions and banks can connect people with a crucial resource to bridge the financial gap and help them stay in their homes."

Helping Hardest-Hit Homeowners is expected to assist as many as 17,000 Michigan homeowners avoid foreclosure, including 11,000 homeowners who are currently unemployed and struggling to pay their monthly mortgage.

"This program is not a handout; it is a helping hand," Granholm said. "A helping hand extended to our neighbors, friends, and relatives. A helping hand extended in difficult times to build a bridge to better times."

The funds will be available beginning July 12 on a first-come, first-served basis, so credit unions are urged to look at the necessary paperwork and program details as soon as possible, including the "Help for Hardest Hit Servicer Agreement" required for participation.
Key documents for credit union participation are available at the MCUL's MSHDA Hardest Hit Fund webpage, and also at MSHDA's website.