New Battle Creek-Based Credit Union Opens Doors (Monitor: June 21, 2010)

Inspire Community Development FCU, the first credit union to receive a charter from the NCUA this year and the first new Michigan credit union in more than 20 years, officially opened its doors to members the morning of June 14 in downtown Battle Creek. The credit union held a grand opening event with board members, interim CEO Victoria Reese, State Rep. Kate Segal, D-Battle Creek, National Federation of Community Development Credit Unions Director of Technical Assistance Brian Gately, and others.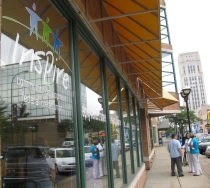 The exterior of Inspire Community Development FCU


Ceremony attendees gathered outside the credit union to hear remarks from several people who supported the credit union during its five-year planning and creation process. The comments underscored the importance of providing a safe alternative to predatory lenders in the community and the magnitude of founding a new credit union in Michigan.

"We have a tighter travel budget at the federation, and normally I have to 'sell' trips to my boss," Gately said during the ceremony, referring to Federation President/CEO Cliff Rosenthal. "I didn't have to sell this trip. This credit union means a lot to Cliff. There are very few credit unions chartered these days. It's hard to get a charter, it takes a lot of determination."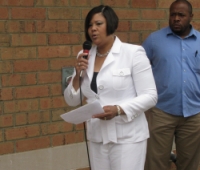 Interim CEO Victoria Reese addresses attendees of the opening event.


Many local organizations assisted in funding the credit union's creation, including primary sponsor Kellogg Community FCU, which continues to provide data processing services for Inspire. As a community development credit union, Inspire looks to serve unbanked and underbanked residents of the Battle Creek area that are at risk of predatory practices.

"We want to reach the 20 percent of the community that does not have banking relationships," said Inspire Board President Reverend Dave Morton. "Some people have credit issues or have had a bad experience with a financial institution, and our welcome mat is out for these folks, especially."

League Representative Ron Martin of the MCUL recognized the credit union with a commemorative clock during the ceremony. Reese, who served as an MC of sorts for the ceremony, expressed appreciation for the support of the board and other local officials.

"[Inspire] is an incredible asset to the community," she said. "My predecessors, my board and I have worked hard for this day."