Hike the Hill Wrap-Up (Monitor: June 14, 2010)

Nearly 30 credit union leaders from across Michigan participated in the first day of CUNA's Hike the Hill on June 9. Wednesday's events kicked off with a "Welcome to Washington" luncheon at the Caucus Room Restaurant with NCUA Executive Director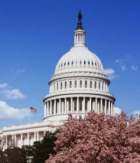 Dave Marquis and CUNA President /CEO Dan Mica. MCUL President /CEO David Adams began the luncheon by thanking Mica for his continued leadership in Washington on behalf of credit unions. The MCUL also announced it had made a $5,000 donation to the Credit Union House on Mica's behalf to commemorate his years of service to the industry. Mica thanked participants for coming to Washington to discuss the critical interchange issue with lawmakers, and thanked the MCUL for its continued support of CUNA's efforts in Washington.
After Mica's remarks, Marquis welcomed Michigan's participants and provided insight into several regulatory issues affecting credit unions, including the corporate credit union situation, the National Credit Union Share Insurance Fund, member business lending and others. Attendees then visited CUNA headquarters and received a federal issues briefing from John Magill, Ryan Donovan, and other members of CUNA's government affairs team. The exclusion of interchange legislation in the reg reform conference committee bill will remain the key focus for the upcoming few weeks as the financial regulatory reform legislation heads to conference committee in the upcoming few days.

The evening wrapped up with a networking opportunity for participants at the Credit Union House.

Hike the Hill participants spent the day Thursday on Capitol Hill meeting with staff and members of Michigan's Congressional delegation. Attendees continued to focus their efforts on the interchange amendment and the importance of striking this provision from the conference bill on regulatory reform. U.S. Reps. Debbie Wasserman-Schultz, D-Fla., and Kenny Marchant, R-Texas, authored a letter to their colleagues in the House addressing their grave concerns about the interchange amendment. The letter was distributed by CUNA and Hike the Hill participants.

As of Friday afternoon, U.S. Reps. Bart Stupak, Pete Hoekstra, Vern Ehlers, Dave Camp, Dale Kildee and Carolyn Cheeks Kilpatrick, all of Michigan, have agreed to sign on to the letter from Reps. Wasserman-Schultz and Marchant. U.S. Rep. Gary Peters, Michigan's only member appointed to the conference committee on financial regulatory reform, took the time to meet personally with his constituent credit union leaders around the scheduled time for opening remarks by the conference committee on the bill. Phyllis White, COO of St. Joseph Mercy Hospital Pontiac FCU provided examples of the costs incurred by her credit union's debit card program, as well as the benefits their members receive. Susan Valley and Sheila Wright from Dow Chemical Employees' CU brought more than 1,700 signatures from their membership opposing the interchange provision, handing copies to Camp and U.S. Sens. Debbie Stabenow and Carl Levin.

Participants also encouraged U.S. Reps. Thaddeus McCotter, John Dingell, Dave Camp, Sander Levin and Mike Rogers to join their Michigan colleagues in co-sponsoring H.R. 3380, which would raise the business lending cap for credit unions.