Revamped CU Difference Ads Now Airing Across Michigan (Monitor: June 14, 2010)

The MCUL's voluntarily-funded cooperative advertising campaign for credit unions is the largest of its kind in the country, and in 2010 it has been taken to greater heights through record credit union contributions and revamped creative materials. Brand new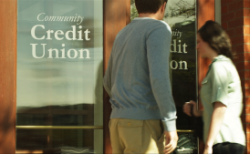 The new CU Difference television commercials show consumers banking and shopping easily through their credit union membership."
TV and radio advertisements reflecting the member-owned nature of credit unions and the Invest in America concept began airing in media markets across Michigan June 7 with the tagline: "Own Your Money. Join a Credit Union."
As revealed by first-quarter, 2010 credit union statistics from the NCUA and CUNA, the Michigan credit union community remains strong and able. MCUL President/CEO David Adams noted that with record membership growth and a continued increase in savings deposits and small business loans, now is an opportune time to appeal to nonmembers navigating the tough economic landscape.
"Credit unions across the state joined together to help fund this historic advertising effort, adding up to a combined total of $4 million including contributions from CUcorp," Adams said. "There is growing public awareness and support for credit unions and, with consumers looking for a safe and sound alternative for their finances, this is a perfect time to inform people of the Credit Union Difference."
The campaign focuses on the many rewards of credit union membership, such as lower fees, better rates and available credit, while highlighting the differences between credit unions and other financial institutions. The ads were produced by McCann Erickson Worldwide, which has worked with General Motors and the Pure Michigan campaign. The MCUL also plans a second wave of commercials to air in the fall designed to build on the momentum and awareness generated from the first campaign.
"Consumers today want more control over their finances, and credit unions are a perfect alternative for people who want to keep their money close to home, working for them and their community," Adams said. "For 85 years, credit unions in Michigan have been in the business of helping people manage their money by investing in them, in Michigan and in America."
The new television ads can be viewed at www.lovemycreditunion.org in the "Why Should You Join a Credit Union?" section of the website. The radio ads can also be downloaded from this page.