Granholm Praises CUs at Small Business Awards (Monitor: May 3, 2010)

Governor Jennifer Granholm again made a plug for Michigan credit unions' small business lending efforts during the 2010 Michigan Celebrates Small Business event in Lansing on April 30. Through the function, the Michigan Economic Development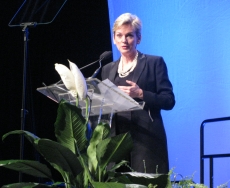 Granholm at the small business award event in Lansing.
Corporation (MEDC) recognized Michigan small businesses and entrepreneurs that have excelled over the past year in their innovation, revenue growth, and ability to employ Michigan workers.
"We've had to create a whole spectrum of help for entrepreneurs in order to be successful," Granholm said in her remarks to the group of several hundred at the Lansing Center. "We have twelve Small Business Technology and Development Centers around the state...and we also linked up with credit unions all across Michigan. This year at the State of the State I announced that credit unions chipped in $43 million to be able to work with the SBTDCs in order to take 1,000 entrepreneurs from start to finish. We're very excited about being able to support entrepreneurs, startups and those who need technical assistance."

Michigan credit unions were represented by MCUL staff members at the event. Fifty small businesses were honored as "Companies to Watch," while several individual business owners received awards.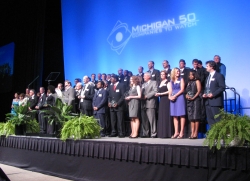 Representatives of the "50 Companies to Watch" honored at the event.


Visit the Credit Union Small Business Financing Alliance website for more information on how credit unions have partnered with state agencies to promote small business growth.