Chris Dodd Introduces New Reg Restructuring Bill (Monitor: March 22, 2010)

New financial regulatory reform legislation introduced March 15 by U.S. Sen. Chris Dodd, D-Conn., does not appear to contain anything drastically different for credit unions from the set of reforms recently passed in the House. Analysis by CUNA continues on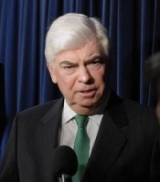 Chris Dodd
the bill's provisions, but early looks reveal the following relevant details for credit unions:
• Changes in examination and enforcement authority are similar to the bill passed by the House, and the proposed Dodd bill sets a $10 billion threshold for these changes, thereby exempting all Michigan credit unions and most credit unions nationwide;
• The NCUA would remain the independent regulator for credit unions;
• There is no requirement for credit unions to change their product offerings to "plain vanilla" items;
• The systemic risk asset threshold in the bill is $50 billion, thereby excluding all credit unions from having to pay into this fund that is used to bail out large financial institutions;
• The bill does not appear to give the new consumer protection entity it creates the authority to subject institutions, including credit unions, to the requirements of the Community Reinvestment Act;
• In Dodd's legislation, regulations will be streamlined in order to prevent unnecessary duplication – this topic was not as thoroughly addressed in the House bill;
• Analysis is ongoing by CUNA of the area addressing executive compensation.
According to a piece by Credit Union Journal (subscription required), a new consumer protection entity created by the Dodd legislation would be housed within the Federal Reserve, instead of an entirely independent agency that would come from the President Obama-backed House bill.
It is anticipated that Dodd's legislation will receive markup by the Senate Banking Committee next week, and receive a vote on the Senate floor in mid- to late-April. More information on this important legislation will be communicated with credit unions through the MCUL Web site and publications as the bill is analyzed. Additional, general information on the bill can be found in a write-up by the Associated Press and in a statement from Dodd on the Senate Banking Committee Web site.