MCUL, Credit Unions Testify on Electronic Titling Bill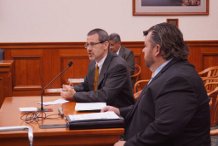 Doug Seaney, vice president of lending for Bay Winds FCU, testifies before the state House committee.
MCUL & Affiliates, along with leaders from four affiliated credit unions, testified before the state House Transportation and Infrastructure Committee on Tuesday to advocate for legislation to prevent vehicle title fraud.
Currently, vehicle titles in Michigan are in paper form and held by the borrower, which leaves the door wide open for fraud. MCUL is supporting Senate Bills 915-918 to require that vehicle titles with liens be held electronically, and that transactions related to lien placement and release be conducted electronically.
Testimony gave real-world examples of how scammers have altered paper documents to fraudulently show that a loan has been paid off. A representative from the office of Secretary of State Ruth Johnson stated that the auto loan process would not be impacted. Rather, the legislation would change how titles are issued. The secretary, along with MCUL, has spearheaded the initiative.
"The only difference would be, there would be no piece of paper issued to you that would be utilized in order to transfer ownership in the vehicle," said David Richmond, the representative with the Michigan Secretary of State's office.
If enacted, the legislation would be fully effective by October 2015, and would provide heightened criminal penalties in the interim. The Michigan state Senate passed Senate Bills 915-918 unanimously, and it appears on track for further action when the legislature reconvenes in the fall.
Submissions to Monitor may be
emailed
. Bryan Laviolette is the editor of Monitor. Contact him
by email
or call (800) 262-6285, ext. 233. The newsletter of the Michigan Credit Union League is published Monday mornings or Tuesday mornings when Monday is a holiday. There is no Monitor the week after Christmas and the week after the Annual Convention and Exposition. The MCUL reserves the right to edit submissions for clarity and space.