Auctions Raise Nearly $50,000 for CMN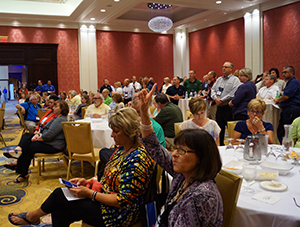 Attendees at the CMN live auction at the AC&E were able to bid on a wide range of prizes.
MCUL's live and silent auctions at AC&E were a huge hit with attendees. The events featured a vast variety of high-end prizes including signed sports merchandise from University of Michigan and Michigan State University players and coaches, Detroit Tigers memorabilia, eclectic artwork, and unique clothing. The biggest prize, a 2015 Super Bowl package, went for a whopping $9,000! In total, the events raised $49,200 for the Children's Miracle Network. Much of that dollar amount was matched to support MCULAF, MCUL's state PAC, which supports pro-credit union candidates for state office.

Submissions to Monitor may be
emailed
. Bryan Laviolette is the editor of Monitor. Contact him
by email
or call (800) 262-6285, ext. 233. The newsletter of the Michigan Credit Union League is published Monday mornings or Tuesday mornings when Monday is a holiday. There is no Monitor the week after Christmas and the week after the Annual Convention and Exposition. The MCUL reserves the right to edit submissions for clarity and space.