AC&E Draws 1,200 to Grand Rapids

GRAND RAPIDS - Last week, MCUL & Affiliates put on another successful Annual Convention and Exposition. In fact, MCUL CEO Dave Adams calls it the best one yet.
Hosted June 4-7 in Grand Rapids, the AC&E boasted the largest number of credit union attendees since 2006 at 658. With all guests included, MCUL hosted about 1,200 people at the Amway Grand Plaza Hotel and DeVos Place in Grand Rapids. Highlights included keynote sessions featuring Gov. Rick Snyder, football great Desmond Howard, and American Express's Dan Schulman.
The event was a chance for MCUL to unveil two new programs for credit unions: a Financial Reality Fair for teens as well as Career and Technical Education materials for teachers and students, to help fill Michigan's skills gap for skilled trade jobs. In addition, the AC&E offered networking events, informational sessions, a vendor expo featuring 130 vendors, and activities to raise money for Children's Miracle Network – a golf outing, silent auction and live auction.
"Providing opportunities for networking, growth, and a refreshed commitment to the credit union philosophy is the mission of the annual AC&E," MCUL CEO Dave Adams said. "We want to extend a sincere thank you to everyone who contributed to the event's success by attending."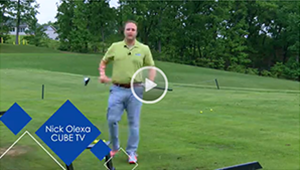 Event sponsors generously contributed to the success of the AC&E, including: CU Solutions Group, CUNA Mutual Group, Michigan State Housing Development Authority, Mortgage Center, Sprint, General Motors, Intuit, EPI Marketing Services, Salus Group, CO-OP Financial Services, Miedema Asset Management Group, Alloya Corporate FCU, Doeren Mayhew & Co., Excess Share Insurance, Holzman Corkery, LaMacchia Group, Member First Mortgage, Plante Moran, Multi-Bank Securities Inc. and the Michigan CU Foundation.
The AC&E kicked off with a swing at the annual charity golf outing at Thousand Oaks Golf Club in Grand Rapids on Wednesday, June 4. The numbers are still being tallied, but early tallies show 148 people participated. That large showing brought in at least $32,000 for the Children's Miracle Network.
Watch this video about the golf outing.

Golfers take part in the Children's Miracle Network outing at Thousand Oaks Golf Club in Grand Rapids.

Submissions to Monitor may be
emailed
. Bryan Laviolette is the editor of Monitor. Contact him
by email
or call (800) 262-6285, ext. 233. The newsletter of the Michigan Credit Union League is published Monday mornings or Tuesday mornings when Monday is a holiday. There is no Monitor the week after Christmas and the week after the Annual Convention and Exposition. The MCUL reserves the right to edit submissions for clarity and space.