Outstanding Industry Training and Focus on the Future of Payments at AC&E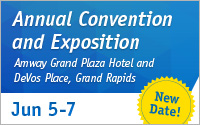 The future of payment systems and their impact on the financial services industry is a hot topic credit union professionals need to understand from many perspectives. This year's MCUL & Affiliates Annual Convention and Exposition is packed with payment topics, plus plenty of additional great training.
The Friday keynote presentation features Dan Schulman, group president of enterprise growth at American Express, speaking on "Technology Upheaval in Financial Services," which will focus on the unprecedented pace of change sweeping through the financial sector and the resulting threats and opportunities.
NCUA field supervisor Jerald Garner will be on hand to explore the rapid modernization of payment solutions in a breakout session entitled, "The Future of Payment Services: A Regulators Perspective." Other payment-specific breakout session topics will include "The Shifting Payment Landscape," "The Future of Payments: Getting to the Heart of Member Relationships," "Lessons & Predictions From Five Mobile Payment Pilots" and "Payments Perplexed? Top 10 Moves to Position Payments Franchise." Other breakout sessions featured at the conference will be:
Teen Financial REALITY Fair

Taking Control of Credit Union Culture to Create a Great Place to Work

Risk-Based Lending: Collateral Management Systems 101
Automotive Lending and Sales Overdrive

Health Care Reform 2014: Changes, Changes & More Changes

MSHDA's Homeownership Program: Delivering the Dream to Michigan Families

Member Friendly Non-Interest Income
Credit Unions Exposure to Data Breaches
Trends in Technologies for Boards

Impact of Changing Media Landscape on Tomorrow's Bottom Line

Membership Meeting & Leadership Summit
Split Dollar Collateral Panel

Using Technology to Improve the Bottom Line and Increase Membership

Managing Compliance 2014 and Beyond
Interest Rate Risk & Auto Loan Portfolios

Chapter Leader's Session: Seven Habits of America's Best Credit Union Chapters

Focus on Technology to Build Loyal Business Membership
Aging in Place and Other Funding Through FHLBI
Handling Difficult Conversations

Protecting Balance Sheets in a Rising Interest Rate Environment
New this year at the AC&E will be an "Innovation Platform," an exciting addition that brings together quick presentations on innovative new products and ideas to help attendees leverage technological advancements and see marketplace concepts of the "future" being implemented now. Presentations will include seeing Crowdfunding, a new social ritual that enables the public to support projects in an open and transparent way by rapidly democratizing access to capital, as well as learning about device authentication with a new generation of tools to help minimize financial fraud, plus more.
The AC&E takes place June 5-7 at the Amway Grand Plaza Hotel and DeVos Place in downtown Grand Rapids. More than 550 credit union professionals are already registered. Learn more and register today.
Submissions to Monitor may be
emailed
. Bryan Laviolette is the editor of Monitor. Contact him
by email
or call (800) 262-6285, ext. 233. The newsletter of the Michigan Credit Union League is published Monday mornings or Tuesday mornings when Monday is a holiday. There is no Monitor the week after Christmas and the week after the Annual Convention and Exposition. The MCUL reserves the right to edit submissions for clarity and space.