Peters, Levin Videos Now Available on CUBE TV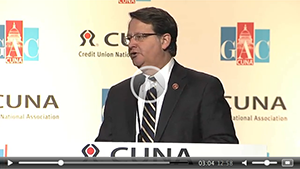 A pair of videos featuring U.S. Reps. Gary Peters and Sander Levin speaking at the CUNA GAC are now available on CUBE TV.
MCUL & Affiliates CEO David Adams introduced both congressmen on the stage at the GAC.
MCUL was the first organization to offer its endorsement of Peters' bid for the U.S. Senate seat currently held by Carl Levin, who is retiring. In introducing Peters, Adams said: "There isn't a single issue that we've asked Gary Peters to help us with for which he hasn't been a supporter."
Peters, D-Bloomfield Hills, said he has long been a credit union supporter, but the industry's importance became crystal clear when Chrysler and General Motors were struggling to survive during the 2008-09 Great Recession. Even as the government was giving the automakers the funds to stay in business, they still needed lenders to help people buy cars. Credit unions made those loans.
"What they needed was customers to come in and buy those automobiles," Peters said. "Not only were banks not lending to each other, they weren't lending to consumers who wanted to buy a car.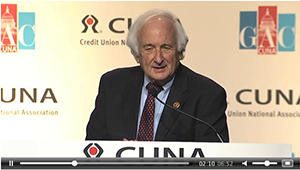 "During that moment, I knew why I was a passionate supporter of credit unions. When the country needed you to lend, you were there lending."
Adams said that Sander Levin understands the importance of credit unions to regular consumers.
"Congressman Levin is one who has fought hard for the middle class," Adams said.
Levin said he has been a member of his credit union for 50 years.
"I'm proud to be a member of a credit union all these years."
Levin said he was looking forward to seeing his friends from the credit union committee when they visited his office later that day. But his real message was that the 4,400 credit union supporters who were at the GAC should reach out to others in Congress.
"Focus on those you're not sure of," Levin said. "Focus on telling them your story."
Click on the videos to watch.


Submissions to Monitor may be
emailed
. Bryan Laviolette is the editor of Monitor. Contact him
by email
or call (800) 262-6285, ext. 233. The newsletter of the Michigan Credit Union League is published Monday mornings or Tuesday mornings when Monday is a holiday. There is no Monitor the week after Christmas and the week after the Annual Convention and Exposition. The MCUL reserves the right to edit submissions for clarity and space.