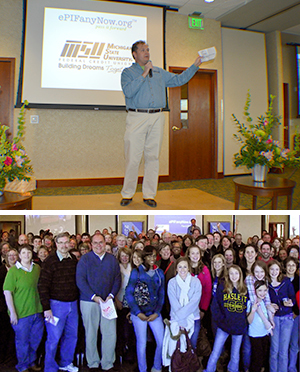 TOP: Bob Hoffman, creator of ePIFanyNow, speaks at the 2013 kickoff event at MSUFCU. BOTTOM: The ePIFanyNow had a lot of support in 2013, it's first year.
… MSUFCU is inviting the community to an ePIFanyNow party on May 4, from 1 p.m. to 5 p.m. The "PIF" in ePIFanyNow™ stands for "pass it forward" and for the second year, participants are invited to join the credit union in passing it forward by performing random acts of kindness in the local community. ePIFanyNow originated in 2009, when its founder, Bob Hoffman of East Lansing, was cut off by a driver. He decided to turn his experience into something positive by helping others. ePIFanyNow's mission is to "create a revolution of positive, transformational experiences through exponential acts of kindness." The program, which has no religious or political affiliation, serves as a means to inspire people to spread kindness in their day-to-day lives. MSUFCU hosted its first ePIFanyNow party in 2013. Credit union employees and community members went out in teams and spent a day giving out gift cards, paying for other people's groceries, raking yards, painting homes and more. This year, MSUFCU plans to continue this spirit of giving by hosting another ePIFanyNow party. The community is invited to join by spreading kindness in their own unique ways. Individuals are encouraged to come up with acts of kindness of their own, both big and small. Afterward, teams will be invited back to enjoy complimentary refreshments and will have the unique opportunity to share their stories with others. "Giving back to the community is a top priority at MSUFCU, and ePIFanyNow is a great way for the credit union to spread kindness on a large scale," MSUFCU President and CEO Patrick McPharlin said. "It is truly inspiring to see our employees and members come together to make a difference in the lives of others in our community." You can also learn more by following twitter.com/ePIFanyNow and liking facebook.com/ePIFanynow.
Top left: Central Macomb staff is ready to sell their goods to students.
Top right: Howard Brown presented realty and utilities to students.
Bottom left: Greg Tankersley offers transportation options to students.

… The Macomb Daily did a lengthy feature story on the Mad City Money simulation run by Central Macomb Community CU at L'Anse Creuse High School. The school plans to do another session at L'Anse Creuse High School North in Macomb on Tuesday, April 29. The program was designed to teach students how to live within budget after they were given a career and monthly salary. Kristen Lozan, 17, portrayed a television broadcast technician with a take home salary of $3,816 a month. But after buying a house and car, she was amazed how much it costs to provide for the kids. "Money goes fast," Lozan, a senior, said Monday, "and the kids are expensive – I need to make more than $3,000 a month."
… American 1 CU is searching for 10 talented teens, age 13-19 to compete in this year's American 1 Teen Idol competition on July 11. American 1 is hosting auditions through May 1. Auditions are 4 p.m. to 6 p.m. April 29 at the Hillsdale College Dow Center; 4 p.m. to 6 p.m. April 30, Leslie High School in Leslie and 5:30 p.m. to 7 p.m. May 1 at the American 1 branch in Milan. This year's winner will receive $1,500 and a guest appearance on the new "The Evan Michael Show," on WHTV, Channel 18, in Lansing. For complete details and an application visit www.american1cu.org.
… Employees at Dow Chemical Employees' CU raised more than $425 for the American Red Cross Great Lakes Bay Chapter through their most recent "Jeans Day" fundraiser. For each of the one-day fundraisers, which occur throughout the year, participating DCECU employees donate a minimum of $5, which entitles them to wear blue jeans, tennis shoes and logo attire to work that day. The American Red Cross Great Lakes Bay Chapter is a key humanitarian partner and a vital participant in Michigan's plans and programs to help people in the local region. The chapter responds to an average of two to three disasters a week and provides immediate humanitarian aid to people affected by those disasters. The chapter also trains residents to be ready with vital lifesaving skills, including CPR/AED and first aid; provides individuals, families and businesses with preparedness information and skills, and has a corps of close to 100 volunteers. "Our staff at DCECU truly believes in giving back to the community," DCECU President/CEO Dennis Hanson said. "The 'Jeans Day' fundraisers are completely driven by the passion of our employees. By supporting organizations that assist those who need it most, we know we are helping to make the world a better place. Our employees work hard to serve not only our credit union members, but the entire community."
… ELGA CU in Burton announced its 2014 ELGA Scholarship Program. "This year we are expanding our past scholarship program to include additional scholarship opportunities to members within our communities," ELGA CEO Karen Church said. "Last year, ELGA awarded three $1,000 Carmen Lee Wilber Memorial Scholarships to well deserving students for their scholastic achievements. This year, ELGA will add a fourth Carmen Lee Wilber Memorial Scholarship recipient." The Carmen Lee Wilber Scholarship is available to high school seniors attending college in the fall. Also, in 2014 ELGA will award a "Giving Back " Community Scholarship of $1000 to a member currently attending college. "Our mission at ELGA Credit Union has always been to support and give back to the communities we serve," Church said. "These scholarships allow us to invest in our members and support their educational dreams." Keeping this in mind, every scholarship will include a personal essay by the students expressing how they give back to their community and the importance of people helping people. To apply for the Carmen Lee Wilber Memorial Scholarship or the ELGA "Giving Back" Community Scholarship visit www.ELGACU.com/scholarship. Applications are due Wednesday, April 30.
… MSUFCU announced a partnership with Mount Hope Elementary School, Pattengill Academy, MSU's College Assistance Migrant Program, and MSU's Residence College in Arts and Humanities in hosting the Nuestros Cuentos Children's Storytelling project on April 30, from 5 p.m. to 7 p.m. at MSUFCU Headquarters, 3777 West Road in East Lansing. The community and local media are welcome to attend the event. Nuestros Cuentos, or "Our Stories," is a collaborative project that documents the stories of Latino public school children in the form of student autobiographies and artwork. This collaboration with Latino students from Mount Hope and Pattengill Elementary schools, former migrant workers, and Residence College in Arts and Humanities students will focus on Lansing and Michigan Latino history and the power of telling community and individual stories. This project turns these stories into an interactive display for the community to experience. Attendees will also have the opportunity to see an unveiling of the childrens' books, view the accompanying artwork and view a short film documenting the Nuestros Cuentos project. "MSUFCU is pleased to support the Nuestros Cuentos project and invest in a program that allows us to celebrate Latino students and their stories," MSUFCU President and CEO Patrick McPharlin said. "We are proud to display each of the student's artwork to visitors at MSUFCU's Headquarters and continue our support of arts in the local community." Light refreshments will be served at the reception, and projects will be displayed at MSUFCU Headquarters through the end of May.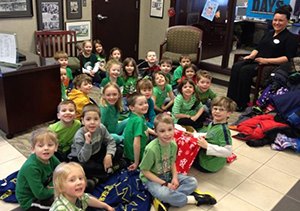 Students from Highland Elementary School visit Affinity Group CU's Highland branch for National Reading Month.
… During the month of March, each of the six branches of Affinity Group CU did something to help promote National Reading Month. In addition to all of their various personal touches, each branch gave away free books to any child that came into the credit union. MFEfamily.org provides free books and learning tools for all Michigan students. Families only pay for shipping and handling; visit the website for more details. Affinity Group members helped make this program possible with their donations to Affinity Foundation for Michigan Kids. AFMK was created to help fulfill a need for children within the State of Michigan. The foundation's sole purpose is to generate donations that are provided to kids from birth through college age to further their social responsibility, intellectual growth and personal development skills. The foundation's goal is to provide financial assistance to help as many Michigan children as possible develop and achieve all they can be. Pontiac branch Manager Chad Rich likes to quote Benjamin Franklin as words to live by: "An investment in knowledge pays the best interest." "I really think that is the truth," Rich said. "The more you know, the more you can grow. You can learn and grow in many different ways, but as young as you can, you need to be reading." The credit union's Highland branch used the slogan "Reading is a hoot!" Regional Manager Korey Tague had kindergarteners, first graders and second graders from Highland Elementary come in for a field trip, story time and have some fun coloring and winning prizes.
… TBA CU is inviting families to its eighth annual Kids' Day, "The Fantastic Frontier." The event will be held on Saturday, May 3 from 10 a.m. to 2 p.m. at the South Airport branch. This free community event will feature a variety of activities, including lunch, games, prizes, child safety identification, face painting and crafts. Attendees can also enter to win a gift basket valued at $100 from Oryana Natural Foods Market. Since 2007, TBACU has celebrated kids and financial literacy on Kids' Day. "We love to celebrate the youth in our community and encourage them to save for the future," said Cindy Lardie, TBA marketing and education coordinator. "From our student-run credit union program alone, we expect students to save close to $20,000 collectively at school deposit sites. When students start saving early, they develop habits that will stay with them for a lifetime." To open a savings account during the event, parents are asked to bring Social Security numbers for themselves and their child and their driver's license.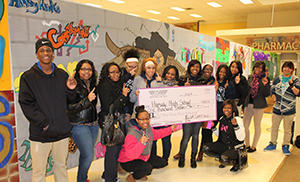 Students at Hamady High School won ELGA CU's Graffiti Art Competition.
… ELGA CU recently presented a check for $1,000 to Hamady High School's Art Department on behalf of the students who participated in ELGA's March "Graffiti Art Competition." The contestant entries were displayed at ELGA's Flint Township branch, currently located in the old VG's Food Center on Corunna Road. "Our goal was to assist local, high school art departments in providing their fine art students with accessibility and materials to display their creativity, as well as help out their school's art program," ELGA CEO Karen Church said. Four schools participated in the contest: Hamady, Powers Catholic High School, Carman-Ainsworth High School and Flint Southwestern Academy. ELGA provided each school with four four-by-eight plastic canvases, along with the funds to purchase paint. The combined project became a 16-foot by 32-foot, "graffiti-style" masterpiece. ELGA Facebook page voters chose Hamady High School as the winner. "We would like to extend our thanks for all who participated in the contest, especially Hamady High and its students. We truly have some wonderful, creative talent in our schools, " Church said.
… Catholic FCU in Saginaw has been awarded a 2014 Silver Outstanding Healthy Workplace Award by the Governor's Council on Physical Fitness, Health and Sports and the Michigan Fitness Foundation. This award recognizes organizations that have started programs providing health and wellness opportunities for employees. The award serves as a platform to help create best practices for organizations throughout Michigan to replicate and to inspire organizations for their pursuit, commitment and dedication to healthy lifestyles. "It was such a thrill to learn Catholic Federal was selected for this award," said Gina Kellogg, CFCU vice president of human resources. "Our wellness committee shows a lot of passion for creating fun ways to promote healthy habits and share information. It's an honor to be recognized for our efforts, however, it is so much more gratifying to hear how employees and family members have made positive changes to improve their personal health and well-being."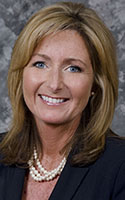 Johnson
… Meg Johnson has been appointed director of collections and loss prevention at United FCU in St. Joseph. In her new role, Johnson will provide vision, leadership and coaching to teams in the areas of asset liquidation, asset management, delinquency, fraud management, loan loss management and risk management. Johnson was previously collections manager with the UFCU's risk and compliance department where she was responsible for overseeing the collections, fraud, loss mitigation, and member assistance teams. A native of South Bend, Ind., Johnson is pursuing a bachelor's degree in organizational management from Bethel College in Mishawaka, Ind. She lives in Granger, Ind.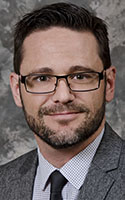 Blake
… Jeff Blake has been appointed director of compensation and benefits at United FCU in St. Joseph. In his new role, Blake will oversee national compensation and benefits programs and payroll operations, including development and maintenance of all related compliance procedures and documentation. Blakewas previously manager of compensation and benefits with the credit union's human resources division where he was responsible formanagement of salary administration, employee benefits and federal and multi-state compliance programs. Blake's prior experience includes human resources management positions with Lifestyle Family Fitness Corp. in St. Petersburg, Fla., Wright-Patt CU in Dayton, Ohio, and other organizations in southwestern Ohio. A native of Dayton, Blake has a bachelor's degree in human resource management from Wright State University in Dayton, is a Senior Professional in Human Resources with the Human Resource Certification Institute, a World at Work-Certified Compensation Professional and a member of the Society for Human Resource Management and the Southwest Michigan Society for Human Resource Management. He lives in Stevensville.
Submissions to Monitor may be
emailed
. Bryan Laviolette is the editor of Monitor. Contact him
by email
or call (800) 262-6285, ext. 233. The newsletter of the Michigan Credit Union League is published Monday mornings or Tuesday mornings when Monday is a holiday. There is no Monitor the week after Christmas and the week after the Annual Convention and Exposition. The MCUL reserves the right to edit submissions for clarity and space.