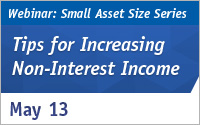 ... On May 13, the MCUL & Affiliates SAS webinar series continues with Tips for Increasing Non-Interest Income, taking place from 1 p.m. to 2 p.m. (ET). The event will look at questions such as: Is implementing a statement fee a good strategy for increasing income? Is there a way to determine if a credit union is getting the most from an overdraft protection program? What other fees can help a credit union's bottom line and would be considered fair and reasonable to members? The session will offer examples of what one credit union did to increase their non-interest income by tens of thousands of dollars each month. The webinar will be facilitated by Shari Storm of Verity CU, who was a former member of Filene's prestigious i3 team.
...On May 8 an audio session on New Mortgage RESPA Rules will be presented in cooperation with the Illinois CU League from 11 a.m. to noon (ET). Priced at $129 per connection, the session will look at the many changes RESPA is undergoing and the final rules that will affect servicing requirements, mandatory homeowner counseling and many other areas of the regulation. Common issues and problems will also be talked about, as well as how various types of charges must be disclosed, including how they impact tolerances. Additionally, the new servicing rules will be detailed and a primer provided for the new disclosures to help prepare for what to expect.
Submissions to Monitor may be
emailed
. Bryan Laviolette is the editor of Monitor. Contact him
by email
or call (800) 262-6285, ext. 233. The newsletter of the Michigan Credit Union League is published Monday mornings or Tuesday mornings when Monday is a holiday. There is no Monitor the week after Christmas and the week after the Annual Convention and Exposition. The MCUL reserves the right to edit submissions for clarity and space.