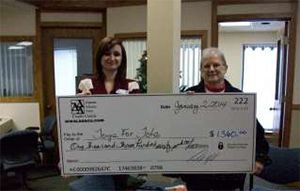 Jessy Ott presents a check to Gloria Krasinski representing Toys for Tots.
… Alpena Alcona Area CU raised $69 for St. Vincent's and $180 for Toys for Tots during the fourth quarter of 2013. The Tawas office raised money for both organizations through a variety of fundraisers: a pumpkin weight guessing game, candy bar sales, and member donations. The staff got involved by donating $2 on Fridays to dress down in jeans and sneakers. The Oscoda office focused its efforts on Toys for Tots with bake sales, cash donations, a TV raffle, and selling paper trains. Staff here also donated $2 for the opportunity to dress down in jeans and sneakers.

… Michigan Community CU announced that it awarded its quarterly Forward Thinking Partnership Program grant to Jackson High School's art classes. Pennie Davis, art teacher for Jackson High School, received $1,073 to help fund the equipment needed for the project "Holistic Awareness and Appreciation of Native American Textile Through Weaving." Objectives of this project are for the art students to create an appreciation of other cultures, be able to recognize native symbolisms and patterns and how to understand their meanings, color theory, stitching and sewing. "I feel very blessed to have received the Forward Thinking Grant from Michigan Community Credit Union for my students here at Jackson High School," Davis said. "Due to this grant, my students will have the opportunity of working with Native American textile and explore different cultures. This in turn not only helps our students, but their families and the community by appreciation of other cultures." "Michigan Community Credit Union's Forward Thinking Partnership Program was developed in recognition of years of support from our local educational community," marketing manager Liz Hoffius said. "The program helps great educational ideas and projects become reality through financial assistance." For an application or to learn more about the Forward Thinking Partnership Program, contact the marketing department at (517) 787-2060, ext. 3731, or email liz@micommunitycu.com. Completed applications may be returned via e-mail or postal mail.

… Central Macomb Community CU is offering high school seniors an opportunity to qualify for two $1,000 scholarships. The Macomb County Military Honor Scholarship honors the men and women who defend our country every day. To honor the foundation and beginning of the credit union, the Selfridge scholarship is awarded to a member of CMCCU whose parents (one or both) are active military, reserve or veterans. The Macomb County Community Action Scholarship celebrates the principles of "people helping people" and serving the Macomb County community. Young members who take the time to assist the community and nonprofit, charitable organizations are eligible for this financial award. Applications are due by March 31. Applications are available at www.cmccu.com or from any of CMCCU's four locations in Chesterfield, Clinton Township, Selfridge ANGB or Sterling Heights. For more information, contact Paula Rose, vice president of marketing, at (586) 466-7800 ext. 123.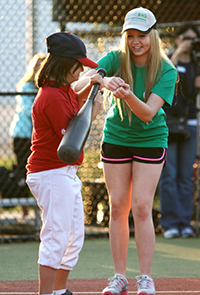 Lauren Krzisnik, 2013 scholar, volunteered with Community Choice and Michigan Miracle League this past summer.
… Community Choice CU's Community Choice Foundation is helping Michigan hold on to its best and brightest youth through its sixth annual scholarship program. Twenty scholarships of up to $5,000 will be awarded to local high school seniors who are excited about their future in Michigan. Applications are being accepted online at CommunityChoiceFoundation.org now through March 9. In order to be eligible for a Community Choice Foundation scholarship, applicants must plan on attending a Michigan college or university and must pledge to stay in Michigan after college graduation. Scholarship applicants will be evaluated based on grade point average, volunteer service, and a written essay, with some consideration given to financial need. Since launching in 2009, Community Choice Foundation has infused over $500,000 into Michigan's economy through 101 scholarships awarded. The program goes beyond merely awarding money by truly engaging scholars in the community. "This scholarship is different. It's geared toward students like me who are passionate about making a positive impact in our home state," said University of Michigan freshman Lauren Krzisnik, a 2013 scholar. "Last summer I volunteered with Community Choice and Michigan Miracle League, helping kids with disabilities have a blast playing baseball. It's these unique opportunities and the personal attention they give their scholars that shows they're working hard to make Michigan stronger." Krzisnik continued that she is proud to go to school and build her future career here, in a gorgeous state full of determined people. "The economy in Michigan is improving," President and CEO Robert Bava said. "We started this program to help slow the flood of young talent leaving our state. Five years later, the tech community is on the rise, the auto industry has re-emerged, and excitement about staying in Michigan is growing. The scholarship program seeks to positively influence that trend and help establish Michigan as the best place to learn and work." The Community Choice Foundation has enjoyed generous support from the local business community and credit union members to make the scholarship program possible. Sponsorships begin at $500 and go up to a $5,000 full scholarship level. Donations of every amount are accepted. To donate, please contact Foundation Coordinator Abbey Bierlein at (877) 243-2528, ext. 1128, or email ABierlein@CommunityChoiceCU.com.

…The following charities were selected for $1,800 grants from the Greater Southwest Michigan Chapter: Gryphon Place, Kalamazoo; Ferry Street Resource Center, Niles; Housing Resources, Kalamazoo; Gateway, Berrien Springs. The chapter is a volunteer organization that works to promote the credit union movement and seeks to recognize and support organizations in its communities by sharing funds raised by chapter members and sponsors at the annual charity golf outing. More information about Greater Southwest Chapter can be found at www.greatersouthwest.org.
… Marshall Community CU has announced its 2014 Scholarship program. MCCU will award four $1,000 scholarships to local 2014 high school graduates. The scholarships are available to help cover tuition and admission fees to any college or technical school in the United States. Scholarship applicants must be graduating high school seniors and members of MCCU. Students within MCCU's field of membership who are not yet members are welcome to join. "We are excited to be able to support the educational goals of our members," MCCU Financial Education Coordinator Andrea Tucker said. "With our continued support of local schools and communities, offering the scholarships seemed like the next logical step." Students may obtain a copy of the scholarship application and a full list of requirements at marshallcommunitycu.com. The scholarship information can be found on the Youth Products and Services page under Scholarships on the credit union's website, www.marshallcommunitycu.com. Completed applications must be postmarked no later than April 30. Send all applications to Attn: Marketing Department, MCCU, 839 W. Green St. Marshall, MI 49068.
… Community Choice CU is now offering e-Deposit. e-Deposit, also known as remote deposit capture, allows users to take pictures of checks or scan checks and deposit those checks from mobile devices, tablets or home computers. The credit union, which serves Southeast Michigan, hopes the new service will add convenience and value for its members. "e-Deposit is a great addition for Community Choice because it allows members to easily deposit checks without having to leave their homes or their businesses," Community Choice Product Manager Audrey Olzem said.… OMNI Community CU has once again earned a five-star rating from Bauer Financial, an independent firm that has been rating financial institutions based on soundness and stability since 1983. The five-star rating is the highest rating awarded by Bauer Financial. In addition, an independent third-party survey recently conducted amongst OMNI members showed nearly a 100 percent rating in overall service satisfaction with over 97 percent of OMNI members indicating they would recommend OMNI to others. OMNI Community Credit Union recently shared $1 million in earnings with its members through the Cashback Rebate program. "The goal is not just to be a great place to bank, but to provide our members with the best financial guidance and service to help them thrive. The Cashback Rebate is made possible due to members' loyalty and support. Without them, this wouldn¹t be possible," CEO Ted Parsons said. The 2013 Cashback Rebate was the largest payout in the program¹s history. To date, the credit union has shared more than $5 million in earnings with its membership during the past six years and in turn many OMNI members have opted to donate their rebate earnings to local charities and community organizations. The spirit of giving is alive and well at OMNI and resonates through the entire organization and membership.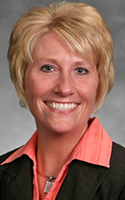 St. Cyr
… Alpena Alcona Area CU, Frankenmuth CU and Team One CU have formed a new CUSO called Strategic Income Solutions. SIS will focus on providing financial institutions with products and services that directly impact the growth of their bottom lines. SIS provides opportunities to increase the value of member account relationships as well as increasing non-interest income for financial institutions. The services offered are products such as Check Printing, Card Personalization, Identity Theft Protection, Insurance and Mortgage Products. Penny St. Cyr has been named as CEO, and comes to SIS with over 20 years of experience in the credit union and insurance industries. For more information, contact Penny at (989) 272-0040, pstcyr@strategicincomesolutions.org or visit www.strategicincomesolutions.org.
Submissions to Monitor may be
emailed
. Bryan Laviolette is the editor of Monitor. Contact him
by email
or call (800) 262-6285, ext. 233. The newsletter of the Michigan Credit Union League is published Monday mornings or Tuesday mornings when Monday is a holiday. There is no Monitor the week after Christmas and the week after the Annual Convention and Exposition. The MCUL reserves the right to edit submissions for clarity and space.