Credit Union Advocates Needed in Lansing for GAC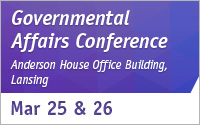 The MCUL & Affiliates GAC is March 25-26 at the Anderson House Office Building in Lansing. Hotel rooms are being held at a negotiated rate at the Radisson in Lansing until March 3 and attendees are encouraged to book rooms soon.
This year's event agenda includes opening remarks by MCUL & Affiliates' CEO David Adams, followed by a keynote address by Michigan Secretary of State Ruth Johnson. Other sessions include a "Regulator Roundtable," a "VIP Reception With House and Senate Financial Services Committee Members," a "House Leadership Panel," a "Lunch With State Representatives and Senators" and more.
To view the full event agenda, learn about hotel accommodations and register, click here.
Submissions to Monitor may be
emailed
. Bryan Laviolette is the editor of Monitor. Contact him
by email
or call (800) 262-6285, ext. 233. The newsletter of the Michigan Credit Union League is published Monday mornings or Tuesday mornings when Monday is a holiday. There is no Monitor the week after Christmas and the week after the Annual Convention and Exposition. The MCUL reserves the right to edit submissions for clarity and space.