Six Michigan Credit Union Members Go Home with $10,000 Each During Save to Win Week of Winning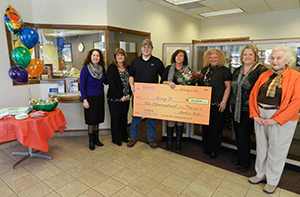 Nancy F. and her son William stand with executives and board members from Sunrise Family CU at the credit union's Essexville branch. William said he wanted to buy a boat, but his mom said the money would go into his education fund.
The Save to Win Week of Winning wrapped up with the six lucky credit union members across the state who received $10,000 each after their names were selected at random in a computer drawing. The Grand Prize winners are members of Community Driven CU, Christian Financial CU, Sunrise Family CU, Frankenmuth CU and Public Service CU.
Through 2013, more than 12,500 Save to Win accounts have been opened in Michigan, with savings totaling more than $33 million, an average savings of more than $2,600 per account. Save to Win began in Michigan six years ago and it continues to grow every year because credit unions are making saving fun for people. Due to the success of the Michigan program, Save to Win has expanded to Washington, Nebraska and North Carolina. The national program has attracted more than 16,700 members nationwide, who have saved $38.5 million. Since the program inception in 2009, participating credit unions have awarded $1Million in prizes to over 10,000 credit union members nationwide.
"This program has made so many of our regular members into regular savers," Sunrise Family CU CEO Barbara Weiler said.
Nancy F., who was the winner at Sunrise Family, said she opened the account to save money for her son's education.

"You are already winning with the interest," Nancy said. "To have someone call you up and tell you that you won $10,000 … oh my gosh."
Save to Win, a CUNA award-winning product, allows participating members to earn entries into the Grand Prize drawing for every $25 deposit into a Save to Win account. The program also awards 50-75 monthly prizes of $50. In addition, most participating credit unions also individually award prizes to members who sign up for Save to Win, with prizes varying from credit union to credit union. All Save to Win deposits generate interest and build savings.
Michigan's economy is slowly trying to recover from the past recession and one of the biggest challenges credit unions still face is how to help families save their money. A 2013 member survey found that close to 40 percent of members said they used to have a savings account but don't anymore or have never had a savings account before opening their Save to Win account.
To find out more about Save to Win, visit www.savetowin.org or to become a participating credit union, contact your league representative for details. There's still time to offer this beneficial product to your members in 2014 and get them in the running to be one of next year's grand prize winners.
Submissions to Monitor may be
emailed
. Bryan Laviolette is the editor of Monitor. Contact him
by email
or call (800) 262-6285, ext. 233. The newsletter of the Michigan Credit Union League is published Monday mornings or Tuesday mornings when Monday is a holiday. There is no Monitor the week after Christmas and the week after the Annual Convention and Exposition. The MCUL reserves the right to edit submissions for clarity and space.