Online Registration Open for Lending and Marketing Conference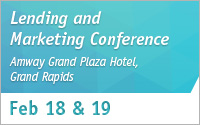 The date is set, speakers are confirmed, hotel reservations may be made and online registration is open for the MCUL & Affiliates 2014 Lending and Marketing Conference, Feb. 18-19 at the Amway Grand Plaza Hotel in downtown Grand Rapids.
There is already a great deal of excitement surrounding the event as financial industry expert and consultant Celeste Cook is slated to deliver the Lending Conference keynote "Key Lending Strategies for Loan Growth" and Florida credit union CEO Jim Kasch will deliver the Marketing Conference keynote addresses on "Understanding Gen Y: More Than Just Delivery Channels & Social Media."
Two great agendas will combine for one outstanding event packed with valuable insights such as "Fuel Marketing With New Media" and "Improving the Bottom Line by Serving a Sponsor." Attendees will be excited to see favorites such as Blaine Rada, trainer with CMG Mortgage Insurance Company, speaking on "Willingness to Replay: Understanding Credit" and "Seizing Market Share in a Purchase Market." Timely topics such as "The Changing World of Payments." "Social Media Compliance" and "Lending Best Practices" are also planned.
More information about the Lending and Marketing Conference and online registration is located here. Hotel reservations can be made now by clicking here. More details on the newly expanded Compliance Conference, which is Feb. 20-21 at the same venue, will be available soon.

Submissions to Monitor may be
emailed
. Bryan Laviolette is the editor of Monitor. Contact him
by email
or call (800) 262-6285, ext. 233. The newsletter of the Michigan Credit Union League is published Monday mornings or Tuesday mornings when Monday is a holiday. There is no Monitor the week after Christmas and the week after the Annual Convention and Exposition. The MCUL reserves the right to edit submissions for clarity and space.