Outstanding Lineup of Speakers Makes People and Performance Institute Extraordinary Opportunity for Staff

| | | |
| --- | --- | --- |
| Myrand | Yudess | Huggler |
| Dumouchelle | McClintick | |
Over and over, MCUL & Affiliates conference goers are amazed by the speakers being hired to present at League events and already expectations are high for the great line-up of industry experts who are slated to speak at the People and Performance Institute, Oct. 1-2. Leadership development specialists, lawyers, compliance officers, workplace learning professionals and organizational consultants will be amongst over a dozen credit union industry professionals speaking at the Institute, which takes place at the Soaring Eagle Casino and Resort in Mount Pleasant.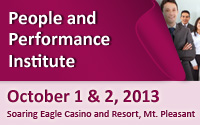 Jo A. Yudess, Ed.D. of Buffalo State University will deliver a Creative Leadership Workshop the second day of the institute, which is included in registration for those who choose the option. Yudess will explore how being a creative leader means exploring one's self, examining difficulties with decision making, utilizing the elements of creativity and other aspects that impact what it means to be a leader.
Other noted speakers include Laura Huggler, Ph.D., who will discuss how mergers impact employees, Paul Dumouchelle who will present two sessions related to behavior and matching personalities to jobs, Debbie Myrand who will cover how Apps can be utilized in training and Allison McClintick who is facilitating sessions on communication and making empowered decisions.
The People and Performance Institute was formerly known as the HR, Trainer and Supervisor Institute and continues to deliver valuable training to this audience, while expanding to reach other credit unions staffers looking to develop important professional skills through a broader agenda.
To learn more about the event, speakers and to register, click here.

Submissions to Monitor may be
emailed
. Bryan Laviolette is the editor of Monitor. Contact him
by email
or call (800) 262-6285, ext. 233. The newsletter of the Michigan Credit Union League is published Monday mornings or Tuesday mornings when Monday is a holiday. There is no Monitor the week after Christmas and the week after the Annual Convention and Exposition. The MCUL reserves the right to edit submissions for clarity and space.