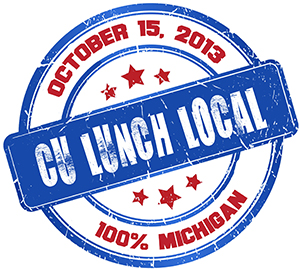 Michigan credit union leaders want the answer to be "CU Lunch Local," a statewide cash mob aimed at showing support for small businesses.
Participation in CU Lunch Local is simple: first, commit to buying local on Oct. 15. It could be as simple as a cup of coffee from a neighborhood shop, or ordering lunch for your department from a locally owned deli. Spread the word to others in your credit union and in the community at large. Credit unions interested in signing up for the event should contact Jessica Richardson-Isenegger at Jessica@in-fusiongroup.com with the credit union name, location and your plans for the day (including the name of the business you'll be supporting.
Next, join the event on Facebook by clicking here. Share the event with your members, community businesses and online friends to help build a community of support. The event page is a place for participants, to publicize their participation in CU Lunch Local to members and to the community. This is an opportunity to demonstrate the collective power of the Michigan credit union community.
Finally, help promote the event through your own social media channels. Take photos, tag your local businesses and use the hashtag #culunchlocal so that the event can gain momentum and be tracked online.
More information about CU Lunch Local is available by clicking here. To get a copy of the official logo contact Jessica Richardson-Isenegger at the email address listed above.
As credit unions work to complete their CU Lunch Local plans, MBC is also asking credit unions to create short videos showcasing the positive impact they have made on local businesses or community causes. From financing new commercial construction to providing free financial education, credit unions serve an important, and often underserved, segment of consumers: Michigan's small businesses and their surrounding communities. MCUL is providing video promotion and through its CUBE TV division issued a video with additional details and production tips. Click here to view the video, which features tips and ideas credit unions can use to make simple videos promoting their business lending projects.
Submissions to Monitor may be
emailed
. Bryan Laviolette is the editor of Monitor. Contact him
by email
or call (800) 262-6285, ext. 233. The newsletter of the Michigan Credit Union League is published Monday mornings or Tuesday mornings when Monday is a holiday. There is no Monitor the week after Christmas and the week after the Annual Convention and Exposition. The MCUL reserves the right to edit submissions for clarity and space.