Reach Your State PAC Goals by Offering Six-Month Payroll Deduction for Lapel Pins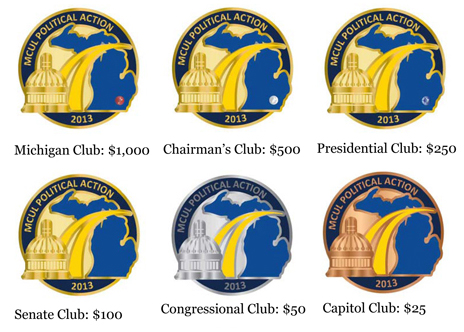 The MCULAF (state PAC) Lapel Pin program is the top funding source for MCUL & Affiliates' political efforts to support credit union-friendly candidates and create a positive change for credit unions in Michigan. The league encourages credit union participation in this important program, as purchasing a 2013 MCULAF lapel pin will help ensure we have the necessary resources to support credit union-friendly lawmakers in Lansing. Lapel pins accounted for almost $92,000 or 51 percent of all the money raised for the state PAC in 2012.

To help you reach your credit union's 2013 MCULAF fundraising goal, click here for a 2013 lapel pin employee payroll deduction authorization form. This form has been revised for a six-month (July through December) payroll deduction period. For those who prefer to make a one-time payment, contributions can also be made here. Wearing this pin is a symbol of your personal commitment to preserving and protecting the credit union philosophy, and is recognized as such by your peers in the credit union lobby, at chapter outings and MCUL sponsored events. Consider running a campaign to support the state PAC. More information regarding the lapel pin program can be found by clicking here.
Submissions to Monitor may be
emailed
. Bryan Laviolette is the editor of Monitor. Contact him
by email
or call (800) 262-6285, ext. 233. The newsletter of the Michigan Credit Union League is published Monday mornings or Tuesday mornings when Monday is a holiday. There is no Monitor the week after Christmas and the week after the Annual Convention and Exposition. The MCUL reserves the right to edit submissions for clarity and space.