MCUL Provides Support
to Congresswoman Candice Miller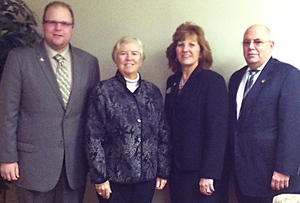 On April 4, Stephen Dedene of CU One, left, Jan Rose, of E&A CU, and Lon Bone of Genisys CU participated in a check presentation to Congresswoman Candice Miller, R-Harrison Twp. Miller was the MCUL & Affiliates 2011 Federal Lawmaker of the Year and continues to be a strong supporter of the credit union movement. Earlier this year, Speaker of the House John Boehner, R-Ohio, named Miller as chair of the House Administration Committee. Miller thanked the credit union leaders in attendance for their continued support.
...Proven Gen Y Strategies for Success will be the topic of an audio session taking place on May 2 from 11 a.m. - Noon (ET). Learn from the shared experiences of Listerhill Credit Union as they connected with the financial needs of today's youth and hear about their discoveries. Today's youth want a voice in their financial service and are ready to embrace the credit union cause if they can be embraced as unique and individual. For more information and online registration for the session, which is priced at $129 per connection, click here.
Greater Southwest Chapter Meeting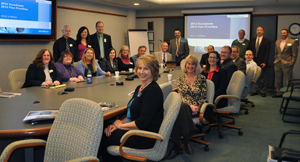 The Greater Southwest Chapter recently hosted a networking event at United FCU. The event featured MCUL & Affiliates CEO David Adams who spoke about industry opportunities and trends. Attendees also had the opportunity to network. In attendance were representatives from Honor CU, Educational Community CU, First Community FCU, Consumers CU and MCUL & Affiliates.
...Chairpersons of MCUL & Affiliates chapters have until April 25 to contact Char Turowski at Char.Turowski@mcul.org with the names of up to four eligible participants from their chapter who have been selected to receive complimentary admission to the league's 2013 Annual Convention and Exposition, taking place May 16-18 at the Detroit Marriott at the Renaissance Center. To qualify, participants must have never attended the AC&E in the past, thus providing a tremendous opportunity for up-and-coming credit union employees and volunteers to benefit from professional development. The special offer is also an ideal way for seasoned-professionals from each chapter to attend the conference and serve as a mentor to a first-time attendee from their region. The invitations for four first-time attendees from each chapter to attend for free has been placed in the care of each chapter's chairperson, allowing them to decide the best way to select participants to go to this amazing conference. For more information, contact your chapter chairperson.

Submissions to Monitor may be
emailed
. Bryan Laviolette is the editor of Monitor. Contact him
by email
or call (800) 262-6285, ext. 233. The newsletter of the Michigan Credit Union League is published Monday mornings or Tuesday mornings when Monday is a holiday. There is no Monitor the week after Christmas and the week after the Annual Convention and Exposition. The MCUL reserves the right to edit submissions for clarity and space.