Donations Fund MCUF Scholarships to CUNA Management School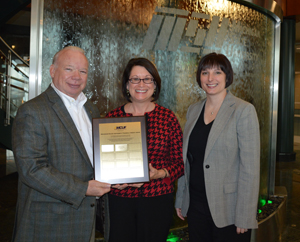 MSUFCU CEO Pat McFarlin and COO April Clobes, right, accept a MCUF donor appreciation plaque for the credit union's 2012 Gold Level contribution to the Ebaugh-Lesnieski Memorial Fund from MCUF Executive Director Beth Troost.
The Michigan CU Foundation offers three scholarships to CUNA Management School each year. Two of these scholarships are provided through memorial funds and a third is provided through the MCUF General Fund. The Ebaugh-Lesnieski Memorial Fund was created in 1982 to provide a scholarship to first-, second-, or third-year CUNA Management School students. A second memorial fund, the Vanderveen Memorial Fund supports a scholarship for a first-year student to attend the school.
Graduates of CUNA Management School know that the program builds dynamic leaders with a rigorous blend of university classes and experiential learning activities and for many, the MCUF scholarships provide the assistance they need to attend.
Fran Gibelyou from Family First CU received a MCUF Grant to attend and expressed appreciation.
"Mere words cannot express how much CUNA Management School has changed my life,"Gibelyou said. "I could only have this rich and rewarding experience because I received a scholarship from the Michigan Credit Union Foundation. I plan on making a yearly donation to the CUNA Management School Scholarship fund so that others can have this priceless experience."
Applications for MCUF Scholarships to the 2013 CUNA Management School may be submitted online at www.mcuf.mcul.org. The deadline for submission is April 12.
Donations from credit unions, chapters, business supporters and individuals fund these scholarships and other MCUF grants and scholarships for educational and community reinvestment initiatives. The Michigan CU Foundation appreciates every donation from credit unions and credit union business partners no matter how small or large. All donations received add up to make a difference in the credit union community through MCUF scholarships and grants. Detailed information, online scholarship and grant applications as well as donation forms can be found on the MCUF website.
Submissions to Monitor may be
emailed
. Bryan Laviolette is the editor of Monitor. Contact him
by email
or call (800) 262-6285, ext. 233. The newsletter of the Michigan Credit Union League is published Monday mornings or Tuesday mornings when Monday is a holiday. There is no Monitor the week after Christmas and the week after the Annual Convention and Exposition. The MCUL reserves the right to edit submissions for clarity and space.