… To offset the increasing cost of education in a challenging economy and to help women compete in a tight labor market, LAFCU, announced the $3,000 WHEEL scholarship program for women who want to enter or re-enter the workforce. "It's challenging for adults to return to school," said Kelli A. Ellsworth-Etchison, LAFCU vice president of community and business development. "They typically do not have financial support from their parents, and they have many demands on their time, including full- or part-time jobs and families. It's especially difficult for women, who traditionally earn less than men or have been out of the workforce to have children or for other family reasons." The Women Helping Educate Every Lady (WHEEL) program awards three scholarships of $1,000 each to women who will attend Lansing Community College fall semester 2013. The application deadline is June 1. "The ideal candidate may need a few classes to complete a degree or want to become licensed or certified in a new occupation," Ellsworth-Etchison said. Winners will be determined by a one-page essay about the applicant's new career choice, why she wants to pursue it now, and her motivation for returning to school. Entries will be judged on content and accuracy. Eligible applicants must live or work in LAFCU's service area, which includes the counties of Barry, Calhoun, Clinton, Eaton, Gratiot, Ingham, Ionia, Jackson, Livingston, Montcalm and Shiawassee. LAFCU also offers the Write to Educate LCC scholarship program that awards $2,500 to a high school senior who then selects an area charity to receive a $500 donation. The deadline for the Write to Educate scholarship is March 29.
… United FCU donated $3,000 to the Lake Michigan College Winner's Circle 23 Scholarship Benefit Auction on March 2. The theme of the auction was "Disco Fever" and UFCU was a "Disco Double Sponsor," meaning that the $3,000 gift doubled to $6,000 during the live auction when the winning bid was matched. The auction raised more than $300,000, with proceeds used to provide scholarship support for Lake Michigan College students. "As the cost of a college education continues to increase and aid from state and federal sources becomes tighter, the ability of Lake Michigan College to make up the differences becomes increasingly important," stated Greg Koroch, Lake Michigan College Vice President of Institutional Advancement and Planning. "Having the ability to provide financial aid for students is an important priority of the college and we appreciate that so many people and organizations like United Federal Credit Union came together for the cause of student scholarships." United President/CEO Gary Easterling said the credit union wants to support education. "We at United Federal Credit Union appreciate the value of a college education, and we are proud to contribute to Lake Michigan College to help ensure standards of excellence in its programs and services," Easterling said. Scholarships are competitively awarded for good grades, area of study, special interest, or financial need.


Alpena Alcona Area CU team members present a check for $1,202 and donated items to St. Bernard's Friendship Room.
… Through the hard work of its employees and the generosity of its membership, Alpena Alcona Area CU raised $1,202 for St. Bernard's Friendship Room. St. Bernard Friendship Room, also known as the Soup Kitchen, provides hot meals Monday through Friday from 4:30 p.m. to 5:30 p.m., Saturday 3 p.m.-4 p.m. Anyone asking for a meal is fed without charge and without questions asked. Along with the daily meal, personal hygiene products and clothing are available for those needing assistance. This is a volunteer service subsidized by financial and food contributions from the Alpena community and surrounding area.
… Since laying down roots in Paw Paw three years ago, Educational Community CU has quickly grown from a small, part-time branch to a large, full-time newly remodeled branch. The newly renovated and expanded office is four times larger than its previous space and has a new exterior facade, drive-thru, 24-hour ATM and night depository. Inside, take a seat in front of the cozy fireplace after a stop at the coffee station and admire the latest art projects on display from local school students. Younger members will enjoy the sunny children's area with comfy bean bag chairs and TV. "We keep telling members that they won't recognize the place," said Carolyn Hande, branch manager of ECCU's Paw Paw Office. "We're excited for the official Grand Re-Opening so everyone can see just how we've grown to better serve our members and the Paw Paw community." The credit union celebrated the grand re-opening March 18-25.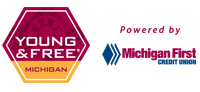 … Michigan First CU is looking for its third Young & Free Michigan "Spokester." The winner will serve for a year as the spokesperson for the credit union's education-focused program for younger members and receive a $27,500 salary (with the opportunity for a $5,000 bonus), an Apple MacBook Pro, an HD video camera and a smartphone. The spokester will create daily blogs and weekly videos to encourage smart financial behavior. They will get to connect personally with the college-age crowd throughout lower Michigan as a part of a variety of local events and presentations. The winner will also enjoy use of the Young & Free Michigan car for a year, along with paid gas and insurance. "Young & Free Michigan is all about sharing positive advice about finances with 17- to 25-year-olds—and our spokester is the embodiment of that mission," President/CEO Michael Poulos said. "This is a fantastic opportunity for someone in or just out of college to showcase their energy, creativity and passion—and to get paid for it." To enter, individuals must be between 18 and 25 years old, willing and able to work full-time and reside in metro Detroit from June 2013 to June 2014. Applicants need to show their creativity, tech savvy and passion for helping others in a 60-second video demonstrating why they would be the ideal spokesperson. They will also need to submit an entertaining blog post on a financial topic, completing their entry by noon on April 15. A public vote from April 16-25 will determine the 10 finalists who also will be invited for an in-person "meet up" event before the final decision is made. Click here to learn more and to apply.
… Credit Union ONE was presented with the 2012 National Dora Maxwell First Place Award during the CUNA GAC in Washington. The award was created in 1987 and recognizes credit unions for the activities they coordinate that benefit the community or a specific charity. This award promotes social responsibility and action to support organizations not related to membership. Credit Union ONE submitted an entry for their service to assist one of their community partners, FernCare. FernCare is a local, nonprofit organization that provides health care services to the uninsured/underinsured. FernCare was faced with the lack of a permanent facility from which to serve its patients. Credit Union ONE became aware of this issue, and donated the use of an office building and equipment to FernCare to use for its free medical clinic. The donation resulted in FernCare reducing its' operating expenses and created a permanent and expanded operations base from which it could provide critically needed medical care. "This is a significant achievement and acknowledges that we are more than just a financial institution," President/CEO Gary Moody said. "To be given an award for action that is not for your members but for uninsured residents of your community is special and is something we are all proud of. We are honored that our efforts are considered the best in the nation."
… MSUFCU has introduced Balance Shield, a new checking account feature that allows members to overdraft their accounts up to $5 without being assessed fees regardless of the reasons an account is overdrawn or the number of transactions it takes an account to become overdrawn. The new feature applies to all personal checking accounts with Courtesy Pay and associated debit cards with Courtesy Pay for Debit protection at MSUFCU. April Clobes, MSUFCU's executive vice president and COO, said: "At MSUFCU, it is always our goal to provide exceptional products and services for all our members. We evaluate our services on a regular basis to ensure we offer fair and reasonable policies that work in our members' best interests. Whether it's an emergency or simply a case of forgetfulness, we understand that overdrafts can happen. We offer a variety of free services to help our members avoid overdrawn accounts and Balance Shield provides an additional way for our members to incur small overdrafts without being assessed fees." In addition to its overdraft protection services and new Balance Shield feature, MSUFCU also aims to help members avoid fees with its check clearing policies. When clearing multiple checks that post to an MSUFCU account on the same day, MSUFCU clears the checks in order of lowest dollar amount to highest dollar amount. This practice helps members clear more checks and reduces fees if funds are not available in an account to cover every check.
… The Community Action Agency of South Central Michigan has been awarded a $1,400 OMNI "Gives Back" Grant from OMNI Community CU. The funds for this grant will go towards Community Action's Volunteer Income Tax Program. Free tax help and related financial services are provided to low- to moderate-income individuals and families in Barry, Branch, Calhoun and St. Joseph counties. The program frequently links free tax prep to asset building. Last year, the program helped 1,600 local tax payers."The funds will be used to support our Volunteer Income Tax Assistance program which helps families file their tax returns while making sure they get all the tax credits they are entitled to, with special focus on the Earned Income Tax Credit, a credit for working families," said Nancy Macfarlane, Community Action Agency of South Central Michigan CEO. "We think the VITA program is a great solution to those in our communities who may not be able to afford tax preparation services," OMNI CEO Ted Parsons said.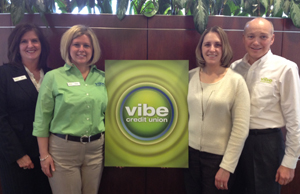 Staci Bates,left, Tracey Mutter, Jill Zachman and Tom Reagan are celebrating a new name for what was Telcom CU. It is now known as Vibe CU.
… Telcom CU is now Vibe CU. The name Vibe was chosen as it is unique and different yet incorporates a modern version of the credit union's historical roots in telecommunications over the past 77 years. Vibe Credit Union reimagined everything about banking and in the process created something truly unique. "Our new name is creating excitement and energy among our members and employees," Vibe CU President/CEO Tom Reagan said. "We look forward to making a connection with people through our new brand and cutting-edge technology."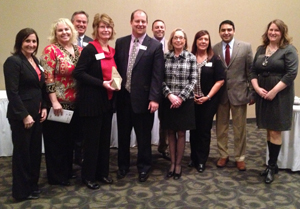 From left are Real Estate Manager Cindy Monte; Mortgage Loan Originator Cathe Van Luvanee; Business Development Manager Jeff Hannan; Benton Harbor Branch Manager Ellen Riley; CEO Scott McFarland; Vice President of Lending TJ Kempf; Board Secretary Mimi Elwell; Regional Manager Jessica Kehrer; St. Joseph Branch Manager Jose Ontiveros; Berrien Springs Branch Manager Kellie Eldridge.
… Honor CU received the Salute to Business Platinum Stake Award at the Cornerstone Chamber of Commerce 2013 Annual Business Meeting. The new Honor CU branch on Napier Avenue in Benton Harbor and the opening of the new corporate offices on Wall Street in downtown Benton Harbor played a large part in receiving the Platinum Stake Award. Employment also continues to increase with over 165 team members at Honor. "We are proud to be a part of the Benton Harbor community with the locations of our new branch and corporate offices." Honor CEO Scott McFarland said. "We look forward to continued growth in Michigan." Organizations nominated for The Platinum Stake Award are judged on employment, sales, physical expansion and capital investment.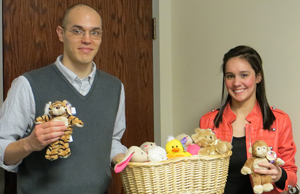 Tellers Nick Lawson and Emily Doane show off the Plush Pals that are available for a $5 donation to the March of Dimes.
… Marshall Community CU volunteers are planning to participate in the March of Dimes, March for Babies at Binder Park Zoo on Sunday, April 28. March for Babies is an annual event supporting March of Dimes research and programs that help moms have full-term pregnancies and babies begin healthy lives. In addition to participating in the walk, MCCU representatives are working tirelessly to raise money for the cause – fundraisers include selling March of Dimes stuffed Pals and employee dress down days at both MCCU locations. So far, team MCCU has raised more than $700. Team MCCU is inviting you to join them on April 28 and contribute to their goal of $1,000. For more information, visit www.marshallcommunitycu.com and click on the March for Babies link under News and Announcements.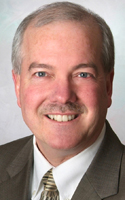 Kellogg
… Kellogg Community FCU announced the recent hiring of Norm Kellogg as business and mortgage loan originator. Norm brings more than 35 years of lending and business development experience to KCFCU. He is a graduate of Western Michigan University. Kellogg is a member of the Risk Management Association, Gull Lake Rotary, and the Japan American Society. As a member of the KCFCU Business Services and Mortgage Lending teams, Kellogg's main objective will be to assist KCFCU members and potential members in obtaining business and mortgage loans. His previous employment as a corporate and small business loan officer will bring valuable experience to members so that they can make sound financial decisions for both their business and personal needs. "It's all about the members and their financial needs," Kellogg said. "My new position at KCFCU will give me an opportunity to utilize the knowledge I have acquired over the past 35 years to fulfill the needs of our members, as well as the organization itself. I'm happy to be a part of a company which is making strides in the financial industry."
Submissions to Monitor may be
emailed
. Bryan Laviolette is the editor of Monitor. Contact him
by email
or call (800) 262-6285, ext. 233. The newsletter of the Michigan Credit Union League is published Monday mornings or Tuesday mornings when Monday is a holiday. There is no Monitor the week after Christmas and the week after the Annual Convention and Exposition. The MCUL reserves the right to edit submissions for clarity and space.