… Feb. 1 marked the launch of Honor CU's new initiative – Powered By Honor®. Powered By Honor's mission is to partner with the community; it is a fund that will act as Honor's charitable arm. "With our growing marketplace, we felt a new solution was needed to continue Honor's tradition of strong involvement in the community," Honor CEO Scott McFarland said. "Powered By Honor allows for more locally focused community support through one centralized fund." Powered By Honor® will fund many of Honor's current programs, including the High School Community Commitment Scholarships and Relay for Life. PBH will also fund the many donations made by Honor CU throughout the year to other organizations. Powered By Honor® is funded through a wide range of channels: Honor's employee donations, proceeds from the credit union's Member Perks program, a portion of Honor's debit and credit card fee income and other fundraising activities.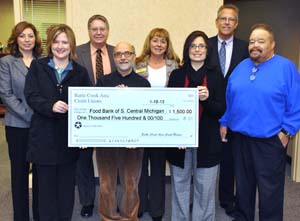 Back row from left are: Tracy Miller of Kellogg Community FCU, Wendell Stoeffler of Post Community CU, Fran Godfrey of United Educational CU and Ted Parsons of OMNI Community CU. In front, from left, are Liz Amundson of Battle Creek Area Community FCU, Dan Salerno of Food Bank of South Central Michigan, LuAnn Schott of Grand Trunk Battle Creek Employees FCU and Dan Prather of Kellogg Community FCU.
… The Battle Creek Chapter presented a $1,500 check to the Food Bank of South Central Michigan. "We are proud to donate to the Food Bank as they support the local communities we serve" said Tracy Miller Chair of the Battle Creek Chapter. "We count ourselves extremely fortunate to be the recipient of the Battle Creek Area Credit Unions' outstanding generosity," Food Bank Executive Director Bob Randels said. "Most especially during difficult economic times as these, the generosity of the Battle Creek Area Credit Unions speaks volumes about their community involvement and will help us continue to meet the needs of our hunger-relief network that served 102,600 individuals last year." Area credit unions include Battle Creek Area Community FCU, Grand Trunk Battle Creek EFCU, KALSEE CU, Kellogg Community FCU, Marshall Community CU, OMNI Community CU, Post Community CU, and United Educational CU.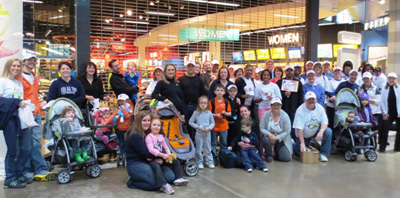 Team Credit Union ONE gathers for a picture during the Walk for Warmth at Great Lakes Crossing Mall in Auburn Hills.
… A team of approximately 55 Credit Union ONE staff and family members walked this year in the 23rd Annual Walk for Warmth on Feb. 22 at the Great Lakes Crossing Outlets in Auburn Hills. The Walk for Warmth is an annual event that raises funds and promotes awareness of the emergency needs of low-income people. All funds raised benefit those who face heat-related emergencies during Michigan's harsh winters. "This is our sixth year in the walk, and we are extremely pleased that our team continues to grow each year," said John Kozich, executive director of Community Relations for Credit Union ONE. "Our staff is very enthusiastic about this very worthwhile cause and looks forward to participating each year." This year Credit Union ONE, a Heart of Bronze sponsor, contributed close to $1,000 to the Walk for Warmth, which included walker pledges and a corporate donation made on behalf of everyone that walked.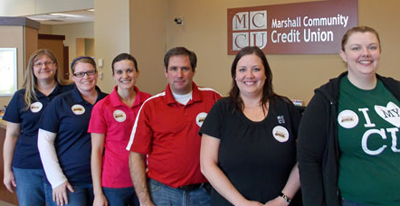 MCCU branch staff employees, Juli Hudson-Eakins, Andrea Tucker, Becky DeFabio, Joel Proietti, Nicole Thomas and Lori Burcaw were just a few of the 25 employees who participated in the fundraising event by donating $5 to dress down for the Charitable Union.
… With the generosity of its employees, Marshall Community CU presented the Charitable Union with a check for $125. This was raised by MCCU through a "dress down day" held in January. On average, it takes Charitable Union $50 to clothe one child for one year. The Charitable Union has been serving families in the community for more than a century. Their mission is to provide clothing, bedding and small household items at no cost, to support families in need and to advocate with them for their further independence and self-sufficiency.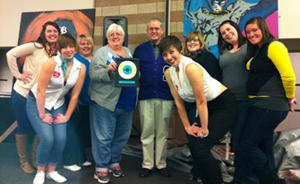 Volunteers at the Taste of Waterford take a break from the festival.
… Genisys CU recently sponsored the 15th annual Taste of Waterford, at the Oakland Schools Conference Center. The Taste of Waterford is a family-friendly event that supports the community's youth. The festival featured food donated by 35 local restaurants, music, entertainment and children's activities, all in an alcohol-, drug-, and tobacco-free environment. Nearly 750 people attended the festival this year, which was made possible with the help of 75 youth volunteers. The purpose of the event is to demonstrate that youth can have fun without the use of harmful substances. "The coalition is thrilled to see the community come together each year and support the youth, safety, and health of the entire community," said Heather Halls, executive director of the Waterford Coalition for Youth. Each year, a different theme is selected for the Taste Festival. This year's theme, "Rock Around the Clock – 1950's style," featured Metro Detroit's premier speed painter, Dave Santia; roller-skating car hops; Dance Place dancers; a strolling quartet, and face painters. "The Taste Festival stands for a great cause while bringing together local businesses, communities, parents, and schools," Genisys President/CEO Jackie Buchanan said. "Genisys is proud to sponsor this iconic event for Waterford and the Waterford Coalition for Youth."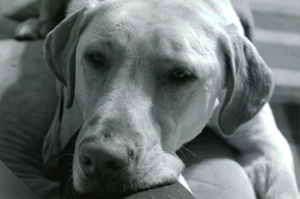 A lab named Roger won the Cutest Pet Photo Contest.
… On Feb. 9, 30 local pet vendors were in the American 1 Event Center at the Jackson County Fairgrounds for the American 1 Paws & Claws Pet Expo, sponsored by American 1 CU. This free event was a fundraising event for the Cascades Humane Society. All vendor booth fees, concession proceeds, craft area donations and pet photo contest proceeds were donated to CHS. CHS also accepted items for the shelter such as pet food, toys, litter, etc. Thirteen dogs and a cat also took part in a pet fashion show. The only cat, named Archer, took this year's Top Dog Model award, leaving American 1 staff members pleasantly surprised. "I guess we'll have to rework the name of the award," said Jayme Bicknell, event coordinator for American 1 CU, "We were very excited to have a cat in the show, and we'll be sure to rename the award for next year to be more cat friendly." For a $1 donation guests could enter their favorite pet photo into the "Cutest Pet" Photo Contest. This year, a lab named Roger took the title of "Cutest Pet," winning a $25 gift card to Pet Supplies Plus. Overall $1,740 was raised for the Cascades Humane Society. American 1 rounded that dollar amount up to an even $2,000. There were also several animals available for adoption from vendors such as The Cascades Humane Society, Last Day Dog Rescue, Mid-Michigan Cat Rescue, Jaxon Kennel Club, and Unleashed… Under Control.

… Parkside CU is offering three $1,000 scholarships to local high school seniors. These scholarships are meant to assist members in financing their education following high school graduation. Applications are available at both Parkside branches as well as online at Parksidecu.org on the home page. The deadline to turn in all documents is May 3. Candidates should be Parkside members who have been accepted to an accredited institution. Candidates have the opportunity to open an account while dropping the application off. Applications will be reviewed by Parkside CU's scholarship committee and scholarships will be disbursed by June 30.

… First-time homebuyers may be eligible for up to $5,000 in grant money from the Michigan State Housing Development Authority's Homebuyer Assistance Grant Program. The state of Michigan has earmarked $15 million in grant money to support first-time homebuyers on a first-come, first-serve basis. The program allows qualifying members of participating credit unions up to $3,000 assistance for nonmilitary borrowers and up to $5,000 for active and veteran military borrowers who are looking to purchase a single family/one-unit owner occupied primary residence. "This is a great opportunity for first-time homebuyers who qualify to apply for grant money without repayment obligations," said Gina Chiechi, loan origination supervisor for Educational Community CU, which is participating in the program. "Our mortgage department is available to answer questions and help interested ECCU members fill out the required paperwork to determine eligibility." Grant assistance cannot exceed 25% of the purchase price of the home and no repayment is required from the borrower. More details and remaining funds can be found on the Michigan State Housing Development Authority's website by clicking here.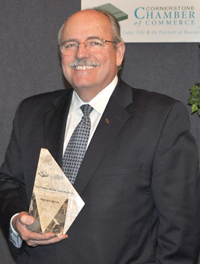 United FCU President/CEO Gary Easterling shows the Cornerstone Chamber of Commerce Platinum Stake Award.
… United FCU received a Cornerstone Chamber of Commerce Platinum Stake Award at the annual Salute to Business Awards Ceremony. UFCU invested more than $1.7 million in creating a Disaster Recovery site which will keep member accounts up and running in emergency disaster situations. UFCU's Disaster Recovery site project included preparing the new site, reconfiguring the network infrastructure and upgrading systems hardware. The project provided UFCU with the opportunity to incorporate state-of-the-art technologies including high-speed data connectivity and multi-site synchronization of systems and transactional databases. "Our investment in the Disaster Recovery site will minimize service disruptions and provide a positive, more seamless experience for members and businesses, which demonstrates our commitment to continuous improvement processes," UFCU President/CEO Gary Easterling said. Setting up the Disaster Recovery site involved the effort and teamwork of multiple UFCU departments with more than 30 people directly involved, and many more indirectly.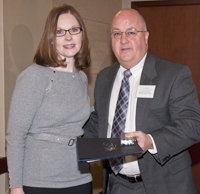 Amy Gole, CTE Director for Romeo Community Schools stands with Bob Vincent, MSGCU director of business development.
… In its continued support of educators and students across the Metro Detroit area, Michigan Schools and Government CU announced that the financial institution was selected as the Warren Consolidated Schools Macomb Career Technical Education Administrators' Association Business Partner of the Year. MSGCU partnered with the district in a variety of ventures, including serving on the Advisory Committee, presenting as a keynote speaker at events and developing a marketing contest for high school students, which gave the youths an opportunity for a hands-on experience in the industry. "MSGCU's marketing contest was a great way for students to gain real world knowledge," said award recipient Bob Vincent, director of sales and business development for the credit union. "This opportunity provided lessons that can be applied to any career path, including working with a team, developing public speaking abilities, making a presentation and growing leadership skills." Several districts across Macomb County participated in the contest, in which students worked in groups to develop a commercial about the benefits of banking with a credit union. Participating teams presented their campaigns in MSGCU's boardroom, where a panel of judges scored their projects in a variety of categories. The credit union awarded the top three teams with gift cards and certificates. The winning commercials were also featured on WDIV's website, clickondetroit.com. "The marketing contest was a beneficial experience for both the students and everyone here at MSGCU," COO Lisa Burroughs said. "We were able to learn a lot from a student's perspective and it was refreshing to see the unique advertisements and messages about credit union membership that they came up with."

… The Boards of MSUFCU and Eaton County Educational CU announced the merger of their respective financial institutions will be effective April 1. The two credit unions informed members in late 2012 of a proposed merger of ECECU into MSUFCU and received all necessary regulatory approval to proceed with the merger in January. ECECU members voted overwhelmingly to approve this merger in February 2013 with more than 95% of the voting members casting ballots in favor of the merger. ECECU's staff will continue on as MSUFCU employees following the merger, and additional staff has been hired to support expanded hours and services at the current ECECU location in Charlotte. "MSUFCU and ECECU have a shared commitment to helping members achieve financial success, and we are excited for the new opportunities this merger provides for members of both credit unions," MSUFCU President and CEO Patrick McPharlin said. "ECECU members will gain expanded account access and a broader range of products and services along with greater financial strength and stability for their accounts and the 11,000 MSUFCU members already residing in Eaton County will receive the added convenience of an established branch in Charlotte."

… Birmingham Bloomfield CU celebrated the one year anniversary of its Waterford Twp. branch on Feb. 21. "We are happy to serve the Waterford community and look forward to serving residents and businesses in the area" Birmingham Bloomfield CU CEO Andrew Staley said. "We continue to expand our products and services to meet our members' ever-changing needs." The branch is located at 6375 Highland Road.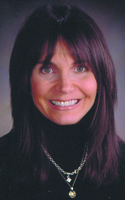 Looby
… Bridget Looby, vice president of development and community relations at Catholic FCU, is a 2013 recipient of the Great Women of the Great Lakes Bay Region award, which recognizes her commitment of time, talent and experience in a meaningful way to advance the community – making the region a better place to live, work and dream. "I am honored to be recognized for this award and share it with Catholic Federal Credit Union and its members," Looby said. "Committing myself to an organization that values people, the community and local causes that I am so passionate about fills my heart." Looby serves as the executive director for the Johnny Burke Children's Foundation and a Board member for the St. Mary's of Michigan Foundation, Saginaw Arts & Enrichment Commission, Saginaw Riverfront Development Commission and Youth First. She is a committee member for the Catholic Community Foundation of Mid-Michigan Marketing Committee, Diocese of Saginaw Community Affairs Committee, MCVI/YMCA's "Run For Your Heart Community Races" and a trustee for the Msgr. Eugene Forbes Scholarship Fund. She is a graduate of Saginaw County Chamber Leadership and currently a member of the Great Lakes Bay Leadership Institute Class of 2013.

… April Clobes, executive vice president/chief operating officer at MSUFCU was recently recognized as a Woman to Watch by CU Times. The article says that Clobes has never set out to make the seemingly impossible possible. She's just relentless when it comes to finding solutions. "If you don't enjoy coming to work everyday then you need to be doing something else," said Clobes, of her personal philosophy. Click here to read the story.
Submissions to Monitor may be
emailed
. Bryan Laviolette is the editor of Monitor. Contact him
by email
or call (800) 262-6285, ext. 233. The newsletter of the Michigan Credit Union League is published Monday mornings or Tuesday mornings when Monday is a holiday. There is no Monitor the week after Christmas and the week after the Annual Convention and Exposition. The MCUL reserves the right to edit submissions for clarity and space.