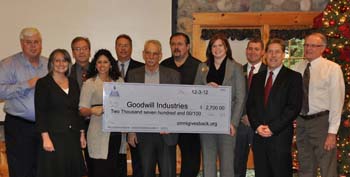 Goodwill Industries was the recipient of a $2,700 OMNI "Gives Back" Grant from OMNI Community CU.
... Goodwill Industries of Central Michigan's Heartland will be using its $2,700 OMNI "Gives Back" Grant from OMNI Community CU to cover the cost of safety inspections on 20 vehicles for their Wheels to Work program. This program provides safe and affordable vehicles to eligible participants who are experiencing a transportation barrier to maintain employment. "With the current economy, people are fortunate to be employed and it's a shame that some have to worry about transportation in addition to employment. The Wheels to Work program is a fantastic program, helping people in Battle Creek regain their independence. We are pleased to award them with an OMNI 'Gives Back' Grant," OMNI CEO Ted Parsons said. "Goodwill Industries of Central Michigan's Heartland, Inc., is extremely thankful to be the recipient of Omni Credit Union's Give Back Grant. We are fortunate to have a partner like Omni Credit Union, who through this grant, shows its support for individuals in our community who are struggling to become more self-sufficient. The lack of transportation for some is an incredible barrier to overcome. The significance of having reliable transportation in gaining and maintaining employment is without question. The proceeds of the Give Back grant will be utilized to conduct vehicle inspections in our Wheels to Work program. "These inspections help our organization provide road-worthy vehicles to those individuals who are striving to gain or maintain employment in our community," said Kenneth Bauer, president/CEO of Goodwill Industries of Central Michigan's Heartland Inc.

… Honor CU's latest blood drive not only aided Michigan Blood but it also helped to support the Humane Society of Southwest Michigan. For each person who signed up to give blood, Michigan Blood donated $10 to the Humane Society, resulting in a donation of $310. Michigan Blood also left with 22 pints of much-needed blood. Seven of the 30 participants were first-time donors. "We are extremely excited that this event generated so many first time donors," said, Angie Rynearson, education and development manager. Honor Credit Union hosts several blood drives throughout the year and we always receive great support from the team and the public. Honor's next blood drive is scheduled for Oct. 16.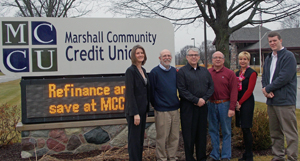 From left, Marshall Community CU CEO Heather Luciani; Ron Stootsman, treasurer of Calhoun County Trailway Alliance; Trailway Alliance President Lary Rizor; Art Kale, chairman of Calhoun County Board of Commissioners; Kelli Scott, MCCU board member and Calhoun County controller, and Richard Lindsey, Calhoun County corporation counsel.
… Marshall Community CU recently donated an easement for the Calhoun County Trailway Alliance on property at MCCU's Emmett Township Office. The land for the planned trail runs along the east end of MCCU's property, along Vernon Avenue. When complete, the Calhoun County Trailway will link the communities of Battle Creek, Marshall, Albion and Homer and will also connect with trails in Kalamazoo and Jackson counties. It will be part of the Great Lake-to-Lake Trail and North Country National Scenic Trail. The first segment of the trail way is expected to be complete in 2013 and will connect Battle Creek with Historic Bridge Park. "We are very pleased to have the opportunity to support this project," Marshall Community CU CEO Heather Luciani. "The Trailway Alliance has worked diligently to implement this trail way and it is a wonderful addition to our park system and to the area."

… Honor CU CEO Scott McFarland spoke to the students at Dowagiac Middle School about the importance of taking care of their money and making good financial choices. This was in cooperation with Chieftain Student CU which opened last year. Teacher Carrie Muessig started the student credit union as part of the Dowagiac Middle School Success Time Program. "It is more important than ever for kids to understand the value of money and that it is truly theirs and saving is a good thing," Muessig said. Chieftain Student CU provides a real working financial institution in the school to teach the importance of strong money management skills, the power of saving and also to provide career development. "Honor is proud to support the financial education of the students in the communities we serve," Honor Regional Manager Jessica Kehrer said. "Dowagiac has led the area with the only middle school credit union and we are proud to be a part of it."

… United FCU was chosen by NAFCU as the recipient of a 2013 Marketing Award for Best Lending Promotion. UFCU and other winners in NAFCU's 2013 Marketing Awards program will be honored in conjunction with NAFCU's 2013 Strategic Growth Conference in New Orleans. The "Save an Average of $40 on Auto Loans with UFCU" campaign for borrowers that re-financed their existing loan from another lender to UFCU saved that borrower an average of $40 a month when they switched to UFCU. "United Federal Credit Union's marketing team works diligently to promote our products and services with clarity and creativity," UFCU President/CEO Gary Easterling said. "This recognition speaks to United Federal Credit Union's commitment to excellence, innovation, and great value."

… Lake Trust CU welcomed James A. Sarver as its new vice president of investment and insurance solutions to its team. Sarver will enhance value for the credit union's existing member investment and insurance products. Through his education and 35 years of former experience at CEFCU in Peoria, Ill., Sarver brings with him an impressive background in investment retail and insurance program management. Sarver holds a bachelor's degree in general studies from Indiana University as well as two business associate's degrees from Illinois Central College and licensing in professional insurance and business. He has been an active member with the National Association of Credit Union Service Organizations for 20 years, currently serves on the NACUSO Property/Casualty Advisory Board and is involved in volunteer work such as with The We Do Listen Foundation, a nonprofit corporation enabling children to enjoy inner peace and improve communication style. "I'm very excited to join Team Lake Trust," Sarver said. "The credit union has a passion for providing quality products and services and I'm really looking forward to enhancing financial solutions for our members." Sarver will work to maintain and create successful relationships and integrate new, beneficial products and services with Lake Trust's existing investment and insurance partners. The credit union is excited to add this boost to its member benefits. "We're really looking forward to having Jim on the team," said David Snodgrass, Lake Trust President and CEO. "We know that his commitment, passion and knowledge will bring great benefit to our membership, and that his role will provide a distinctive, unified member financial planning solution."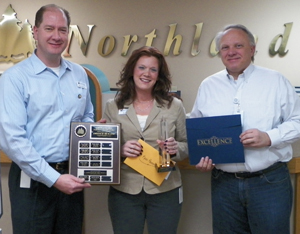 Northland CEO Pete Dzuris, left, stands with Kris Hanson and Vice President of Lending Jack Eling.
… Northland Area FCU announced Kris Hanson as Employee of the Year for 2012. She works in the Oscoda branch as a lending assistant. "One of the great attributes of Kris is her advocacy of helping our members save money through loans and services that make sense," said Jack Eling, Northland's vice president of lending. "Kris is a dedicated employee who strives to find financial solutions to help each member." Hanson has worked at Northland for 10 years. In her spare time, Kris volunteers in her community at events such as Relay for Life, Adopt a Highway and is the Northland Clown Troupe leader.

Submissions to Monitor may be
emailed
. Bryan Laviolette is the editor of Monitor. Contact him
by email
or call (800) 262-6285, ext. 233. The newsletter of the Michigan Credit Union League is published Monday mornings or Tuesday mornings when Monday is a holiday. There is no Monitor the week after Christmas and the week after the Annual Convention and Exposition. The MCUL reserves the right to edit submissions for clarity and space.