Save to Win Prize Squad Hits the Road for Statewide 'Week of Winning'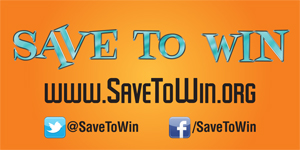 What's even better than saving money? Winning money for saving money! That's exactly the case for 10 lucky credit union members across the state. This week the 10 grand prize winners of the Save to Win program will each receive a $10,000 check delivered by the Prize Squad during the "Week of Winning" statewide tour.
Through Save to Win, the highly acclaimed prize-linked savings program, participating members earn one entry into the grand prize drawing for every $25 deposit into a Save to Win account they make. The program also awarded dozens of $50 monthly prizes last year. In addition, most participating credit unions also individually award prizes to members who sign up for Save to Win, with prizes varying from credit union to credit union. All Save to Win deposits generate interest and build savings.
"Save to Win is the consummate example of Michigan credit unions doing what they do best: helping members to better their lives. Through Save to Win, members are learning a critical life skill, growing their personal wealth, and having fun all at the same time," MCUL & Affiliates CEO David Adams said. "We're thrilled that this year our Prize Squad will visit 10 Michigan communities, delivering prizes and the message about the credit union difference during the Week of Winning."
Save to Win continues to grow each year, surpassing more than more than 15,000 participants in 2012 who collectively saved $43.6 million, according to figures released by MCUL. The grand prize winners were selected at random.
The 10 Grand Prize winners are located in the following communities:
Alpena (Besser CU)
Fenton (ELGA CU)
Dearborn (Community Alliance CU)
Escanaba (Peninsula FCU)
Grand Rapids (Grand Rapids Family CU)
Ishpeming (Ishpeming Community FCU)
Lansing (Lake Trust CU)
Marquette (U.P. Catholic CU)
Royal Oak (OUR CU)
Roseville (Christian Financial CU)
With its one-of-a-kind prize-linked model, Save to Win has been hailed in the national news media for encouraging more families to save their money. Many other states are now trying to emulate Michigan's program because of its popularity and effectiveness at reaching those who have had trouble saving money in the past, and who might otherwise spend their money on games of chance. In recent months, Nebraska and North Carolina credit unions began offering Save to Win to their members, with MCUL administering those programs as well.
This year's grand prize winners include a retired police captain from Grand Rapids, a mine worker from Ishpeming, a grandfather from Escanaba, and a retired State of Michigan employee from Lansing, to name a few.

Statewide, Save to Win savings continue to rise: In 2012, members in the 58 credit unions that participated in the program saved $43.6 million, with an average account balance of more than $2,872 – both up from the $37.3 million saved in 2011, when the average account balance was $2,235.
Follow the Prize Squad February 18-22 on Twitter @SaveToWin and use the hashtag #savetowin, and watch for daily updates, photos, and videos at www.facebook.com/SaveToWin. Anyone who spots the Prize Squad, takes a photo, and uploads it to Facebook or Twitter could win a prize.

Submissions to Monitor may be
emailed
. Bryan Laviolette is the editor of Monitor. Contact him
by email
or call (800) 262-6285, ext. 233. The newsletter of the Michigan Credit Union League is published Monday mornings or Tuesday mornings when Monday is a holiday. There is no Monitor the week after Christmas and the week after the Annual Convention and Exposition. The MCUL reserves the right to edit submissions for clarity and space.