The MCUL & Affiliates 2013 Annual Convention and Exposition heads to the Detroit Marriott at the Renaissance Center, this May 16-18, and online registration is now open.
Event highlights include an opening keynote presentation "Executing Imagination: Turning Creative Fire Into Real Results" by Josh Linkner, author of the New York Time's bestselling book Disciplined Dreaming. Linkner is also the CEO and managing partner of Detroit Venture Partners and founder, chairman and former CEO of Michigan-based ePrize.
Another bestselling author will be Saturday's keynote speaker. Steve Gilliland will speak on "You Make a Difference" based on his book Enjoy the Ride. The AC&E features a great line-up of educational sessions and provides outstanding networking opportunities, as well as brings together vendors from throughout the country as exhibitors at the expo hall.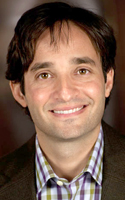 Linkner
Hotel reservations may be made now by calling the Detroit Marriott at the Renaissance Center at (877) 901-6632 and mentioning the Michigan Credit Union League & Affiliates to receive the negotiated room rate of $152 per night, plus applicable taxes or click here to make reservations online. Attendees should note that reservations will be charged a one night room, plus tax deposit and that cancellations after April 30, 2013 will not be refunded.
Registration rates for the AC&E remain the same, with full conference registration priced at just $339 per person, which includes non-ticketed program events and select meals. Credit unions that register five full conference participants at this price, pay just $284 per person for the sixth full conference attendee (or more). One- and two-day registration rates are also available. Click here to learn more and to register for the AC&E.
Submissions to Monitor may be
emailed
. Bryan Laviolette is the editor of Monitor. Contact him
by email
or call (800) 262-6285, ext. 233. The newsletter of the Michigan Credit Union League is published Monday mornings or Tuesday mornings when Monday is a holiday. There is no Monitor the week after Christmas and the week after the Annual Convention and Exposition. The MCUL reserves the right to edit submissions for clarity and space.