... Generations Family FCU employees and members live the credit union philosophy, "People Helping People." During the holidays, GFFCU staff donated many personal care items and gifts for children, along with a check for $116 to the Underground Railroad. Hats, gloves and scarves were also donated by the staff and members. The Underground Railroad is an organization that serves residents of Saginaw County who are victims of domestic violence, sexual assault and stalking. The staff and members also collected canned and nonperishable food items for the Saginaw East Side Soup Kitchen. The soup kitchen provides nutritious meals for those in the community who otherwise would not have a hot meal, and to children at the after-school centers who would go without dinner. Marketing Coordinator Cyndy Bellaver said the credit union's people enjoy helping. "The employees and members at GFFCU are always very generous when helping others in the community," she said.

.. The eighth annual Credit Union Dodgeball Tournament is set for Saturday, April 13, starting at 3 p.m. Anyone interested in playing or forming a team can contact organizer Bill Marrison at LAFCU. "we use no-sting dodgeballs (vinyl covered foam balls), not the rubber balls that so many of you have nightmares about from junior high gym class," Marrison said. Sponsored by the Lansing Chapter and Master Media Supply, the tournament will be at The Soccer Zone in Lansing, 4900 Contec Drive Lansing. Cost is $100 per team with proceeds going to Child and Family Charities in Lansing. The tournament is limited to 32 teams. Contact Marrison at bmarrison@lafcu.com. Click here to download the tournament entry form.

… Alpena's credit unions are getting together to help sponsor a Beatles tribute band concert, according to the Alpena Now website. The Backbeats Beatles Tribute will play at the city's Aplex multi-purpose complex on Feb. 9. Tickets are $7 each and are available at Neimans Family Market, True North Radio Network Studios or at the Aplex.

… Established in 1990 by Lake Michigan CU, the annual Lloyd F. Hutt Scholarship essay contest provides local high school seniors with the opportunity to win one of eight $2,000 scholarships toward the advancement of their future academic goals. This scholarship program honors the legacy of LMCU founder Lloyd F. Hutt and his lifelong commitment to community involvement. This year's essay topic is "Your life's biggest influence so far: How will you pass it on?" Applicants are to write an original 750-1,500 word essay exploring the topic in its entirety. Essays will be evaluated by a panel of independent local judges, with greater emphasis placed on creativity, clarity and originality than mechanical or grammatical proficiency. Since 1991, The program has provided more than $236,000 in scholarships to local high school seniors. In 2012, 330 essays were received for consideration and scholarships were awarded to students from Covenant Christian, Hudsonville, Rockford, Spring Lake, Grand Rapids Christian, Forest Hills Central, Caledonia, and Forest Hills Eastern. High school seniors who are members of Lake Michigan CU or dependent children LMCU members are eligible for the program (except for LMCU employees, children of LMCU directors, officers or employees). The parent or student must be a member in good standing of Lake Michigan CU on the date of the application and must also be a member on the first day of the academic year in which the award is used. All applicants must be high school seniors who plan to enter a trade school, college or university in the following academic year. These students may include general education students, special education students and students with limited English proficiency. The deadline for entries is Jan. 31. Interested high school seniors must complete an application available at any LMCU branch location or online at www.lmcu.org. Questions or concerns can be directed to LMCU's Vickie Smith, director of business development and community involvement. She can be reached at vickie.smith@lmcu.org.

… Up to $12,000 in college scholarships will be awarded annually via the new Dow Chemical Employees' CU Members Endowed Scholarship program administered by the Midland Area Community Foundation. Each year, up to eight $1,500 scholarships will be awarded to DCECU members in good standing. Applicants must be planning to attend or already attending an accredited community college or four-year college or university. The typical Midland County or Gladwin County residency requirement for Midland Area Community Foundation scholarships does not apply to the Dow Chemical Employees' Credit Union Members Endowed Scholarship. "At DCECU, we believe in giving back to our members," said Ken Roznowski, DCECU vice president of lending, who helped organize the scholarship program. "The Dow Chemical Employees' Credit Union Members Endowed Scholarship through the Midland Area Community Foundation allows us a new avenue for giving back by working with a well-known community organization that successfully administers an array of scholarship programs." To apply for the scholarship, visit the Midland Area Community Foundation website at www.midlandfoundation.org between Feb. 1 and March 1.

… Each year, MSUFCU teams up with its members to make the holidays bright for children in the Lansing and Auburn Hills areas. MSUFCU partnered with Michigan State University's University Housing, Child and Family Charities, as with Auburn Hills Firefighters Helping Hands for its 2012 Giving Tree. A Giving Tree was placed in every MSUFCU branch in November 2012 with gift tags available for selection, each printed with an individual child's wish list. MSUFCU members had the option to select a gift tag from the Giving Tree and purchase some of the suggested gifts or to make a monetary donation. MSUFCU staff members volunteered their time to shop for the remaining presents. Sixty children from MSU's University Housing and 94 children from Child and Family Charities received gifts from their holiday wish lists. Five children from the Auburn Hills Firefighters Helping Hands program received gifts, and a check for more than $1,100 was also presented to this organization.

… American 1 CU's monthly charity for the month of December was the Alzheimer's Association: The Great Lakes Chapter in Chelsea. The money was collected through a variety of activities. The American 1 Marketing Department put together "aBay," which is "eBay" for American 1 Staff. Items were collected or donated and then bid on by staff members. There was a dress down day for Christmas, where staff members could pay $5 to wear jeans and a Christmas sweater, the Friday before Christmas. The Home Office and North Street branches also have fresh popped popcorn and bottled water available for a donation, every Friday. Altogether the credit union raised $890 for the Alzheimer's Association. "We're so happy to be able to raise money for great charities each month. The staff really enjoys being able to give back," American 1 Event Coordinator Jayme Bicknell said.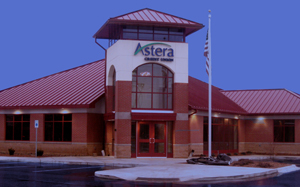 Astera CU opened its newest branch on Saginaw Highway in Lansing on Jan. 22.
… Astera CU opened its newest branch in Lansing on Jan. 22.The new branch at 5615 W. Saginaw Highway will allow the credit union to transition its Waverly Road location to entirely administrative functions. The Saginaw Highway location offers the convenience of a high-traffic area across from Lansing Mall. It also allows Astera to expand its hours and services to include a three-lane drive-up, 24 hour ATM and Saturday hours. "We're most excited about the transformation of how our services will be delivered," President/CEO Margo Kleinfelt said. "We are moving from a traditional teller line to a concierge model. Now, the person helping members with basic transactions is the same person that can help them apply for a loan or credit card. Serving our members' needs has always been our focus. The concierge model allows us to continue that tradition with a more personalized delivery."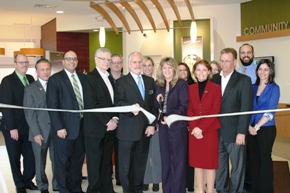 Troy Mayor Dean Slater cuts the ribbon at the new Genisys CU branch with manager Pamela Sejnowski and President/CEO Jackie Buchanan.
… Genisys CU celebrated the opening of its newest location in Troy at Big Beaver and John R roads on Jan. 11 "We are very excited to open a new location that will serve additional members in the Troy area," President/CEO Jackie Buchanan said. Troy Mayor Dane Slater said the branch is a great addition to the community. "Troy is truly Michigan's premiere address for business, retail and commerce and we are so proud and excited that Genisys Credit Union has expanded within Troy by constructing a new building," Slater said. "Genisys has been a wonderful community partner by sponsoring our annual Christmas Tree Lighting, holiday events at our Troy Historic Village, the Boys & Girls Club of Troy and programs within the Troy School District. We could not ask for a better community partner."Troy Chamber board Chairman Peter Arvant said the credit union has shown its commitment to the city. "Genisys employees have also embraced the business community through their involvement in the Chamber. With active participation on committees and sponsorship of events including the Step Up to the Plate for Troy Schools and the annual Holiday Luncheon, Genisys Credit Union has made a name for itself as a committed partner in Troy."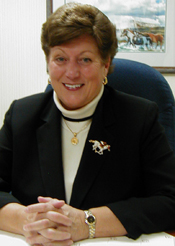 Hurst
… Roberta Hurst, Accounting Manager at TLC Community CU announced her retirement beginning today. Hurst manages a staff of six who are responsible for maintaining accurate records for TLC's corporate accounting, as well as overall membership accounts. She was named TLC's Supervisor of the Quarter in 2002. Hurst joined TLC in 2001, coming from from Farm Credit Services of Southern Michigan where she was the assistant vice president in charge of accounting. In addition to her employment at TLC and Farm Credit Services, she was the executive secretary at the former Adrian State Bank from 1979-83. She and her husband Bob live in Adrian and have three children. The credit union had a retirement celebration on Jan. 25.

Submissions to Monitor may be
emailed
. Bryan Laviolette is the editor of Monitor. Contact him
by email
or call (800) 262-6285, ext. 233. The newsletter of the Michigan Credit Union League is published Monday mornings or Tuesday mornings when Monday is a holiday. There is no Monitor the week after Christmas and the week after the Annual Convention and Exposition. The MCUL reserves the right to edit submissions for clarity and space.