Contribute Now for 2013 CU Link Media Campaign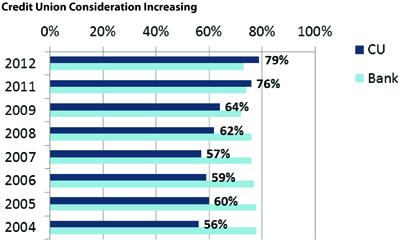 The 2013 CU Link Cooperative Advertising Campaign is set to kick off in April, with expanded campaign materials and a focus on consumers under age 25.
This ambitious campaign depends on credit union financial support, which is used to fund the media buy. All contributions are used in the media market where the contributing credit union is located, and are matched by contributions from MCUL & Affiliates. Campaign fund-raising is under way through the month of January, with contribution requests included in the MCUL affiliation package.
Contribution deadline is Jan. 31, 2013. To contribute, contact your league representative or send a check made payable to MCUL – Your DMA to:
MCUL
P.O. Box 8054
Plymouth, MI 48170-8054
Cooperative advertising helps credit unions raise awareness among all consumers in the state, and has made great progress in the last eight years: consumers who will consider a credit union when they need a new account has increased from 56% in 2004 to 79% in 2012. At the same time, bank consideration has decreased. Use consideration chart.

Submissions to Monitor may be
emailed
. Bryan Laviolette is the editor of Monitor. Contact him
by email
or call (800) 262-6285, ext. 233. The newsletter of the Michigan Credit Union League is published Monday mornings or Tuesday mornings when Monday is a holiday. There is no Monitor the week after Christmas and the week after the Annual Convention and Exposition. The MCUL reserves the right to edit submissions for clarity and space.