… Lake Trust CU's Lake-to-Lake Food Drive was a success, collecting more than 21,000 pounds of food, which will provide 25,000 meals for Michigan families in need this holiday season. The Lake-to-Lake Food Drive was an effort to help fill pantry shelves at local food banks and took place at all 21 branches throughout the state. "Everyone at Lake Trust Credit Union is dedicated to making a difference in the many communities, from lake to lake, we serve," President and CEO David Snodgrass said. "We would like to thank our members and community partners for their overwhelming support." Food collected during the food drive was distributed to a number of local charitable food distribution agencies around Michigan that partnered with Lake Trust, including the Greater Lansing Food Bank, Feeding America West Michigan Food Bank, Food Gatherers, Gleaners Community Food Bank of Southeastern Michigan and Isabella Community Soup Kitchen. In addition, Two Men and a Truck and FireKeepers Casino Hotel were invaluable partners in this community effort. "We are so grateful for all the food and monetary donations that we received," Snodgrass said. "Our joint efforts will make a big difference in the lives of many in our communities, who may not have otherwise been able to enjoy a nice holiday meal."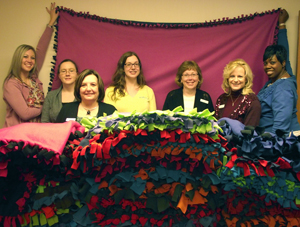 Wildfire CU employees show some of the blankets they made for area homeless shelters with fleece purchased by the credit union.
… That's a whole lotta fleece. Wildfire CU employees continue to give back to those in need in the Great Lakes Bay Region. In an effort to make the holidays a little warmer for those less fortunate, Wildfire purchased more than 135 yards of fleece material and employees made 30 tie blankets to give to residents in several of the area homeless shelters. "The winter months are always so cold, we thought the blankets would be a perfect donation for this time of year," said Michelle LeBlanc, marketing and public relations coordinator. "Plus our employees are always ready to step up and give of themselves when the need arises."

Giving it All Away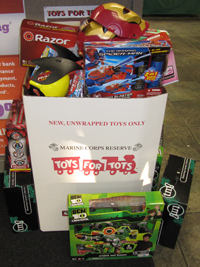 American 1 CU's Vandercook (Jackson) branch recently donated $300 to Toys for Tots. The staff members at the branch generously donated their branch incentive money earned through meeting goals to Toys for Tots. This money could be used however the branch wanted, whether it be lunch, gift cards, etc., but instead they decided to donate it all.
... Lathrup Village-based Michigan First CU and the Michigan First Foundation continued the organizations' tradition of holiday giving this season with a multitude of local donations and events. Michigan First made an annual donation of $500 to the Lincoln Park Goodfellows organization and provided gifts for 50 needy children through the Southfield Goodfellows. Team members collected $660 and more than 40 new and used coats for Tapper's Fine Jewelry's annual coat drive. Additionally, Michigan First participated in 96.3 WDVD's "Christmas On Us," helping to provide a total of $1,000 in gifts and services to five needy Metro Detroit families. The credit union hosted a holiday blood drive for the American Red Cross. Michigan First continued its tradition of bringing Santa into its branches in December, including the annual "Santa Day" event in Lathrup Village with live reindeer, magic shows, face painters, clowns, and holiday cookies.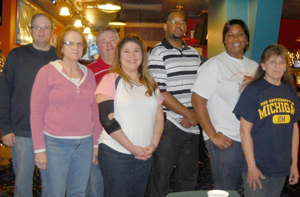 Credit Union ONE sponsored two bowling teams at the fourth annual FernCare Bowling Fundraiser.
… Credit Union ONE joined forces with FernCare, a nonprofit free health care facility and bowled for fun – funds that is. This year's fourth annual FernCare Bowling Fundraiser generated approximately $3,000 for the clinic, which serves those in need of health care in the surrounding communities. Credit Union ONE sponsored two teams to represent the credit union at the event. A little competitive rivalry between the credit union teams led them to finish first and second in the "friendly" event. "We appreciate the opportunity for Credit Union ONE and its' employees to help a good community partner to be able to provide the services needed in the community," John Kozich, executive director of community relations at Credit Union ONE, said. "This is truly in line with the credit union philosophy of 'people helping people.' "

… Grand Rapids Family CU celebrated the grand opening of its Breton office with a ribbon-cutting ceremony on Jan. 2. The newly opened branch is located across the street from Breton Village Mall at 1815 Breton Road NE in Grand Rapids. The celebration continued through Jan. 4, including limited-time special offers available for new and current members. Some of the offerings were loan specials, checking account incentives, a chance to win a 40-inch LCD HD TV, Kindle Fire and an iPod Touch. "We are excited to provide even more convenient options for our growing base of member-owners in Grand Rapids," President and CEO Kim Wilson said. "This latest full-service branch is our third office location, which is a great way to celebrate over 75 years of service and be able to serve our expanding membership."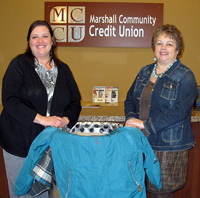 Laura Daugherty, left, of the Charitable Union, thanks Marshall Community CU branch Manager Nicole Thomas for coats, mittens, gloves, scarves and hats donated by the credit union and its members.
… People helping people – it's the credit union philosophy and Marshall Community CU is no exception. Through the months of October and November, MCCU collected a large number of new and gently used coats, mittens, gloves, scarves and hats for the Charitable Union and Marshall Area Community Services. Each year, the Charitable Union hands out more than 5,000 winter coats between the months of October and March to Battle Creek area residents. MACS, provides mittens, gloves, scarves and hats to those in need in Marshall and surrounding areas. Laura Daugherty, assistant executive director/fund development at the Charitable Union, wasn't expecting such a large donation. "Thanks so much to you and your members. Without such a large number of devoted individuals, we would not be able to continue to serve the thousands of folks we see on an annual basis."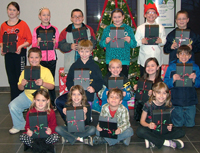 The Kindle Fire HDs were awarded at TLC's main office to students who won the eStatement contest. Participating schools included: Adrian 5/6, Alexander, Clinton, Britton-Deerfield, Lincoln, Patterson, Herrick Park, Michener, Prairie, Madison, Onsted, Sand Creek, Sutton and Tecumseh Acres.
… TLC Community CU recently concluded a contest among TLC's 16 Youth Financial Literacy programs located throughout Lenawee County. Participating students and their families had a chance to win a Kindle Fire HD when they signed up to receive e-Statements for their TLC accounts. One Kindle Fire HD was given away at each of the elementary and middle schools where TLC has an in-school branch program. "eStatements are a great tool for students and families to use," YFL Program Manager Barb Rupley said. "It is a secure service available online through TLC Home Banking. E-statements allow students and their families the ability to watch their savings grow and share in the excitement as they make progress towards their yearly savings goal. It teaches them how to securely manage their account online, a skill they need now and for their future." Through TLC Community CU's Youth Financial Literacy Program, student members are encouraged to set savings goals, make wise spending choices and create a plan for their future. Students who participate find it is a great way to learn about financial responsibility and have fun at the same time. If you are interested in having your child participate in a student-run credit union, click here to see list of participating schools. TLC welcomes the opportunity to provide financial education to the schools in our communities we serve.
Care for the Troops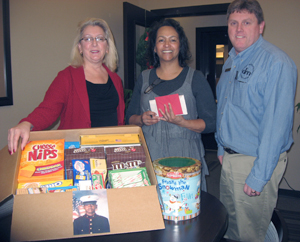 Detroit Metropolitan CU
recently sent a care package of thanks to Gunnery Sgt. Corey Allen of the U.S. Marines for the holidays. He is the son of DMCU Loan Manager Pauline Foreman. From left are DMCU CEO Kathie Trembath, Loan Manager and mother Pauline Foreman and CFO Kevin Finneran.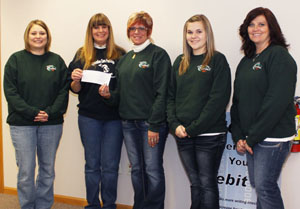 The Atlanta Branch of AAACU presents a check for $181 to Joyce Fulgenzi of Operation Care Package.
… The Atlanta branch of Alpena Alcona Area CU collected $181 for U.S. troops currently serving our country during the third quarter of 2012. The staff of the Atlanta branch raised money for Operation Care Package of Michigan. This organization sends care packages and letters to our military encouraging them and thanking them for their dedication to our country. The staff organized many fundraisers such as candy bar sales, selling yellow ribbons and raffling a patio set. The staff also donated $2 each on Friday to dress down in jeans.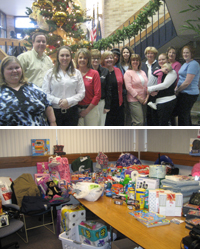 Dort FCU lending department team members pose with members of the Auld Family, whom they donated to during the 2012 Holiday season. Workers collected a room full of items for their adopted family.
… Dort FCU's lending department has once again made a difference in the lives of a deserving family. For more than five years, the Lending Department has adopted a family and this year they were able to connect with a family through one of their collectors. The Auld family was recently hit with economic trouble and that's when the lending department, along with their spouses and children stepped in to help. Through their generous donations they were able to provide the family of nine with a Play Station 2, three Nintendo DS video game systems, pajamas, slippers, guitars, sleds, a digital camera, winter clothes, dolls, art supplies and even Christmas dinner. "When we say people helping people, we truly mean it. Adopting a family is a great way for us to give back to the community and share our blessings with those in need," Lending Administrative Assistant Johnna Scherzer said. "Ultimately, we do this for the children. Our goal is to bring a smile to their face and make their Christmas special."

… American 1 CU's auditing department donated $100 to the Department of Aging's Meals on Wheels program. The $100 will provide 40 hot meals to those who are in need in the Jackson area. For more information on how to get involved with this great organization, click here.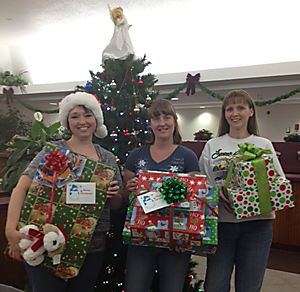 Sonya Nelson, left, program coordinator Lori Cox and Anne Mathews, all of Iron Mountain-Kingsford Community FCU, show some of the gifts they were able to give to area children with the help of members through the Angel Tree Program.
… For 26 years, Iron Mountain-Kingsford Community FCU has sponsored their Angel Tree Program to provide gifts for area children. "The credit union would like to thank all our wonderful members and the public for their help and generosity in making our Angel Tree Program a huge success again this year," the credit union's Larry Hoya said. "Your donations helped brighten Christmas for 359 children from our local area. We could not have done it without you."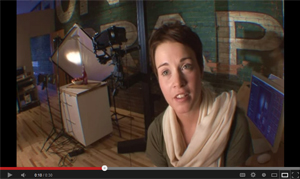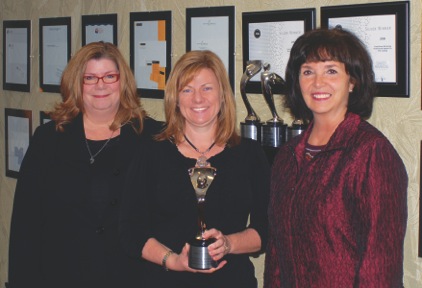 From left are with the Davey Award are KCFCU Senior Marketing Manager Susan Balbaugh, KCFCU Marketing Analytics Manager Rori Ross and GreenStreet Marketing Communications President Kathy Samson.
… Kellogg Community FCU is honored to receive a Silver Davey Award from The International Academy of the Visual Arts for their testimonial television commercial featuring Hollis Conway. The spot was produced by Lawrence productions and directed by GreenStreet Marketing Communications. This same spot has already won two silver Telly Awards and a gold Hermes award. The Davey Award is an international creative award focused exclusively on honoring outstanding creative work from the best small firms worldwide. The Davey is awarded by the International Academy of the Visual Arts (IAVA), a 200+ member organization of leading professionals from various disciplines of the visual arts dedicated to embracing progress and the evolving nature of traditional and interactive media. The ads are judged by the current IAVA membership which represents a "Who's Who" of acclaimed media, advertising, and marketing firms including: Yahoo!, Estee Lauder, Wired, Coach, MTV, Victoria's Secret, HBO, The Ellen DeGeneres Show, and many others. "This year's winners truly represent a smart, nimble approach to creativity and embody the quick thinking, resourceful nature that make small agencies so unique," noted IAVA Executive Director Linda Day. "What made this testimonial campaign so incredibly effective was that these were real people in our community, not fabricated by us or the client. Their testimonials were in their own words and their passion for the KCFCU brand came across. I can't think of a more effective means of gaining brand trust than endorsements by well-respected local people who are not paid, or told what to say," GreenStreet President Kathy Samson said. "In the case of the Hollis commercial, her comments were from the heart, and sincere. KCFCU was open to this marketing approach, and we were thrilled to have the opportunity to work on this project with them to create a deeper connection with their members." There were nearly 4,000 entries from across the U.S. and around the world. "We have a fabulous story to tell about the KCFCU experience and a wonderful ad like this one does a great job in helping people understand what we offer," KCFCU Senior Marketing Manager Susan Balbaugh said. "We love our testimonial series of television ads and this one in particular is a favorite. GreenStreet did an excellent job of executing the vision and we are proud to call them a member or our marketing team."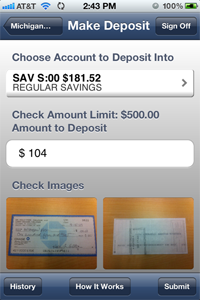 … Michigan First CU has launched a new feature allowing mobile deposit for iPhone, iPad and Android mobile devices. Users of the Michigan First Mobile application can now take a photo of a check with their device and deposit it directly into their checking or savings account, President/CEO Michael Poulos said. Mobile deposit is another amenity for members who have downloaded the app, which also includes complete account access from your phone. Users can view savings and checking account histories along with Michigan First loans; as well as transferring funds, paying bills and locating convenient branches and ATMs. More information on mobile deposit is available at MichiganFirst.com/MobileDepositFAQ. "The use of mobile banking will continue to grow rapidly over the next several years, so we're investing in strengthening this technology for our members," Poulos said. "You can't beat the convenience of snapping a quick photo with your phone to deposit a check. With today's busy lifestyles, we're constantly working to make the banking experience as fast and easy as possible for our members."

… Member First Mortgage announced the addition of two owner partners to the Grand Rapids mortgage CUSO. With these additional owners, MFM now has 14 owner partners throughout the state of Michigan. Catholic FCU in Saginaw and Public Service CU in Romulus have both joined MFM.

Submissions to Monitor may be
emailed
. Bryan Laviolette is the editor of Monitor. Contact him
by email
or call (800) 262-6285, ext. 233. The newsletter of the Michigan Credit Union League is published Monday mornings or Tuesday mornings when Monday is a holiday. There is no Monitor the week after Christmas and the week after the Annual Convention and Exposition. The MCUL reserves the right to edit submissions for clarity and space.