Credit Union Member Rewards Program, General Motors Reach Landmark of 500,000 Vehicles Sold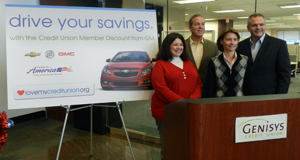 Teri Vollmar, left, a member of Genisys CU, was recognized for purchasing the 500,000th vehicle through the Invest in America General Motors discount. With her are MCUL & Affiliates CEO David Adams, Genisys President & CEO Jackie Buchanan and Jeff Edwards, GM director of retail planning and incentives.
AUBURN HILLS – In just four years, the Invest in America credit union member rewards program, which provides valuable savings on a wide range of products and services from business partners including General Motors, has reached an impressive milestone: the sale of 500,000 American-made vehicles through the program.
Teri Vollmar, a member of Genisys CU stepped behind the wheel of a GMC Terrain purchased through the program at a special commemorative ceremony at Genisys' Auburn Hills headquarters.
"Today's milestone is a celebration of the strong partnership between the credit union industry and companies like General Motors," MCUL & Affiliates CEO David Adams said.
"Invest in America reflects what it truly means to support American products, American workers and the American economy. As our nation emerges from tough times, credit unions continue to do everything they can to support the American economy. We applaud our credit union members for buying American. We applaud General Motors for its willingness to be part of this innovative program. This 500,000th vehicle is proof positive of the combined strength of the credit union and the domestic auto industries."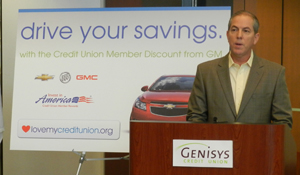 MCUL & Affiliates CEO David Adams speaks at the event recognizing the 500,000th vehicle sold through the Invest in America.
Invest in America was launched in 2008 at the height of the financial crisis at a time when auto financing was hard to come by. A conversation between GM executives and representatives from the league led to its creation. Invest in America is administered by CU Solutions Group, a league affiliate. Under the program, credit union members nationwide receive savings on products and services offered by partnering U.S. companies, including General Motors.
Nearly 3,500 credit unions across the country, representing over 80% of credit union members, now support Invest in America.
"Genisys Credit Union is a proud participant in Invest in America because we know it benefits our members and the credit union movement as a whole," Genisys President & CEO Jackie Buchanan said. "Through this program, we have yet another opportunity to highlight the credit union difference and offer our members superior service and great value. Combining the credit union member discount from GM with credit unions' historically low interest rates means that our members save even more."
"General Motors and Michigan credit unions share a common goal, and that's providing the best products and services at the best prices for hard-working consumers. Programs like Invest in America help all of us reach this goal," said Jeff Edwards, GM director of retail planning and incentives. "We are grateful to credit unions across Michigan and nationally for encouraging their members to support American companies like General Motors while promoting value and quality."
Click here to read the story and video a video of the event courtesy of The Oakland Press.
Submissions to Monitor may be
emailed
. Bryan Laviolette is the editor of Monitor. Contact him
by email
or call (800) 262-6285, ext. 233. The newsletter of the Michigan Credit Union League is published Monday mornings or Tuesday mornings when Monday is a holiday. There is no Monitor the week after Christmas and the week after the Annual Convention and Exposition. The MCUL reserves the right to edit submissions for clarity and space.