CU Leaders Attend Reception for State Senate Finance Chairman Jack Brandenburg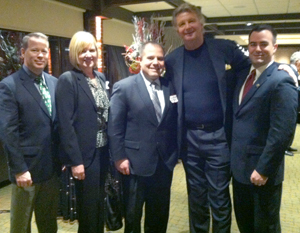 Sen. Jack Brandenburg, second from right, R-Harrison Twp., stands with representatives of Lake Trust CU, Lake Michigan CU and MCUL & Affiliates.
Several mid-Michigan CU leaders recently participated in an evening reception at the University Club on Michigan State University's campus in support of current Senate Finance Committee Chairman Jack Brandenburg, R-Harrison Twp.
Representatives from Lake Trust CU, Lake Michigan CU and the MCUL's government affairs team participated in the event. While elections for the state and U.S. House are behind us, fundraising continues to be part of the political process in Lansing and Washington.
Sen. Brandenburg continues to be an important supporter of Michigan's credit unions. Support for the event was provided by the Michigan Credit Union League Action Fund, which is the league's state PAC.
Submissions to Monitor may be
emailed
. Bryan Laviolette is the editor of Monitor. Contact him
by email
or call (800) 262-6285, ext. 233. The newsletter of the Michigan Credit Union League is published Monday mornings or Tuesday mornings when Monday is a holiday. There is no Monitor the week after Christmas and the week after the Annual Convention and Exposition. The MCUL reserves the right to edit submissions for clarity and space.