Capitol Area Chapter Hosts New Lawmakers for Legislative Breakfast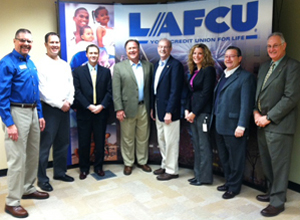 The Capital Area Chapter hosted new and returning lawmakers at its legislative breakfast.
The Capitol Area Chapter hosted a legislative breakfast with current and incoming lawmakers at LAFCU's headquarters. More than 40 credit union leaders representing nine institutions in the region participated in the event.
Current lawmakers who participated in the event included Rep. Paul Opsommer, R-DeWitt, and Sen. Rick Jones, R-Grand Ledge. Newly elected Reps. Tom Cochran, D-Lansing, and Tom Leonard, R-DeWitt, also participated in the event, taking the opportunity to introduce themselves.
The chapter's legislative representative, Mike Loucks from LAFCU, kicked off the event and moderated a discussion on several current issues which included legislation on the 90-day foreclosure workout period, blight, financial elder abuse, and POD storage requirements.
CU leaders in attendance communicated several examples of how several of the current proposals could negatively impact credit unions. Lawmakers appreciated the opportunity to network with CU leaders and learn about our current issues.



Submissions to Monitor may be
emailed
. Bryan Laviolette is the editor of Monitor. Contact him
by email
or call (800) 262-6285, ext. 233. The newsletter of the Michigan Credit Union League is published Monday mornings or Tuesday mornings when Monday is a holiday. There is no Monitor the week after Christmas and the week after the Annual Convention and Exposition. The MCUL reserves the right to edit submissions for clarity and space.